You can use the following filter features in Blueshift. Here are some examples listed to use these filters:
10.Messaging
11.Transactions
"Recent Activity" enables you to build conditions based on user behavior on your website and apps in the past 31 days. Data in this section gets populated from your event stream. The following features are available:
Boolean conditions on behaviors
Timeline filtering: Apply dynamic (e.g. "last 24 hours") or static ("during October 2015") timelines to zoom in on the right users
Filter by event attributes: Use attributes of a behavior to narrow down to page views that came from certain types of devices or channels or searches that contained a certain keyword
Frequency: Find users who performed the action frequently
Note:
The search is case insensitive
We lowercase all the attribute values before storing the data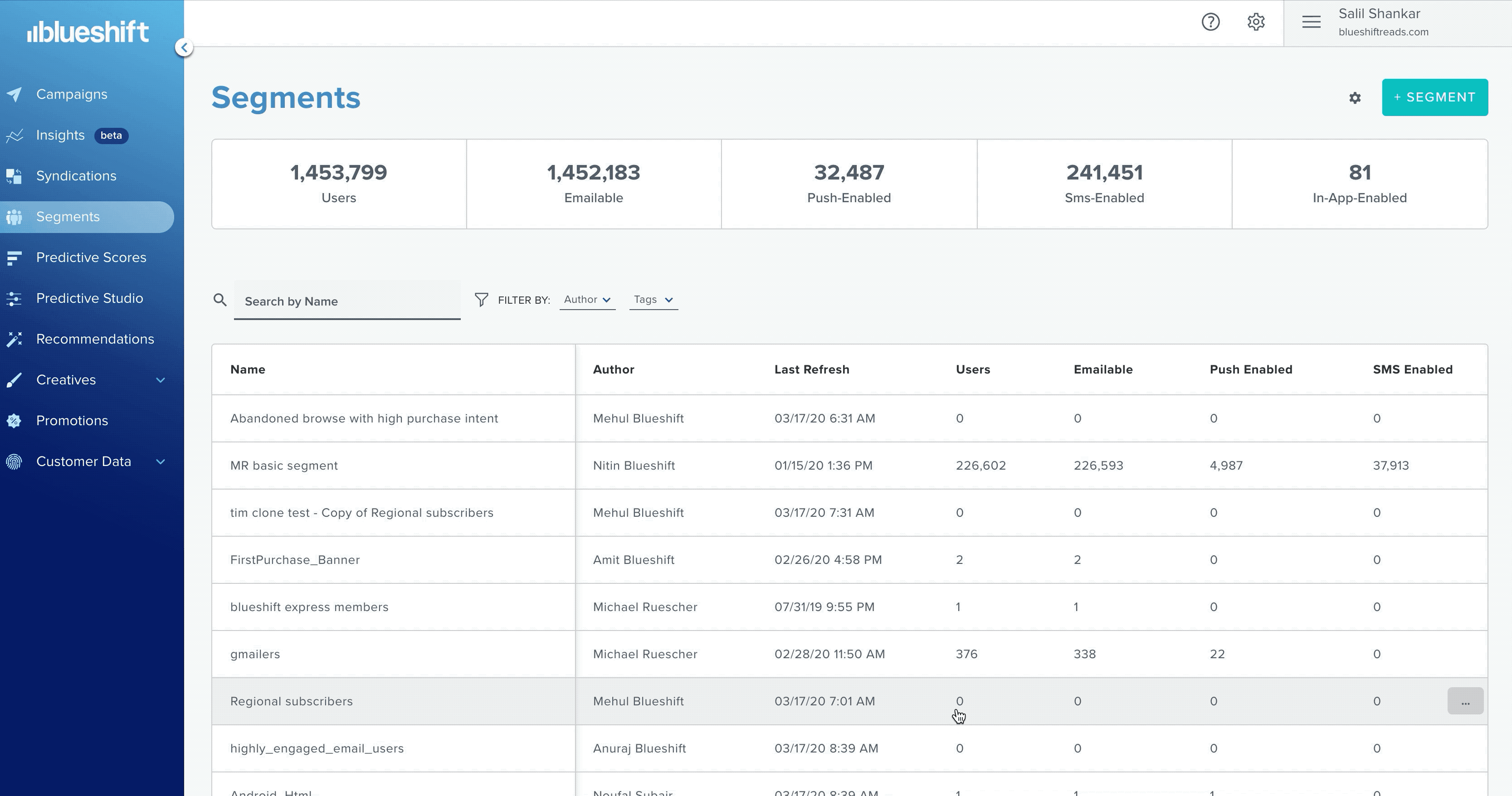 Blueshift automatically computes aggregate statistics on visits, purchases, revenue, referrals, message sends etc during an entire customer journey. You can create conditions related to these aggregates under "Lifetime Activity".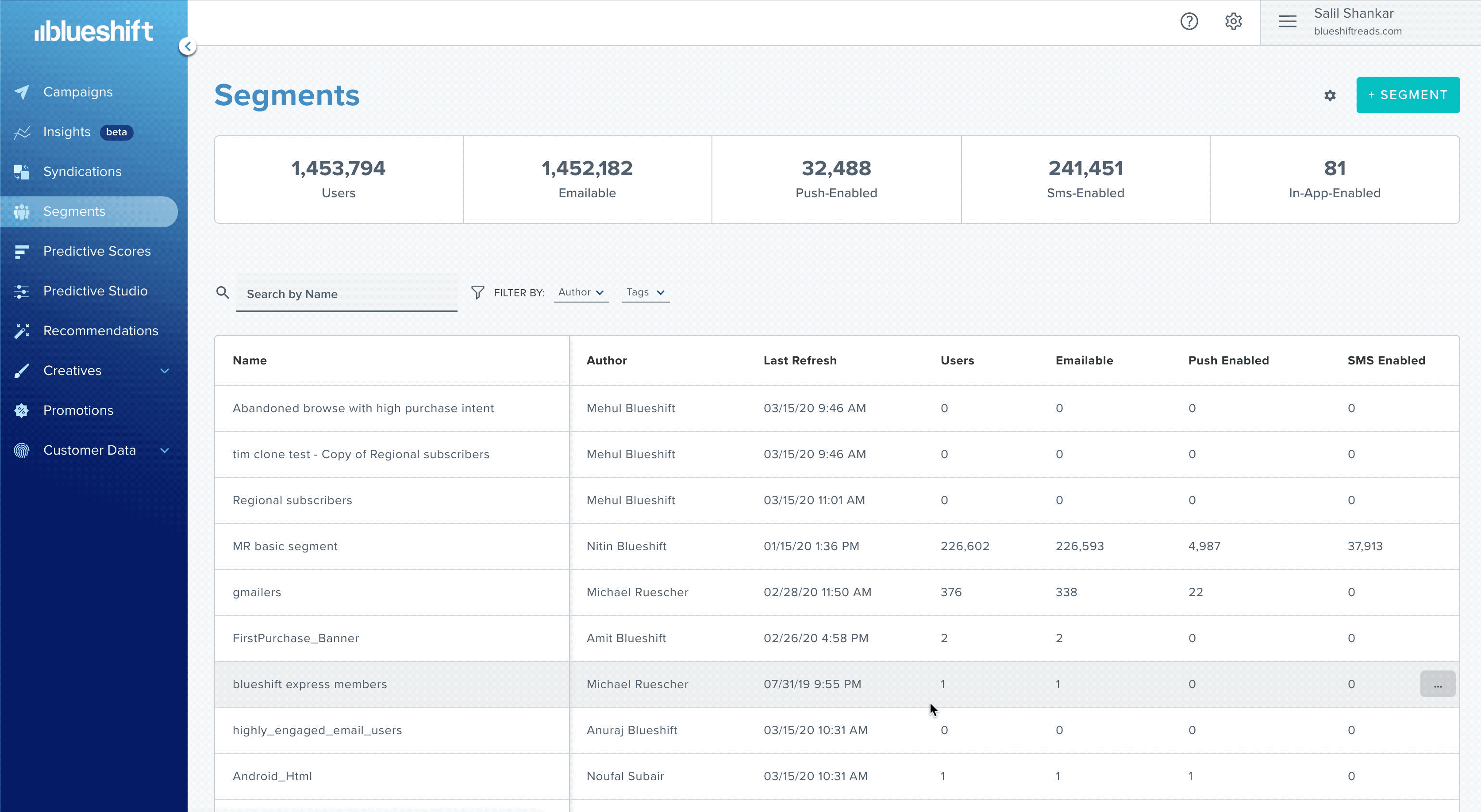 Blueshift makes it easy to segment by user interactions with various parts of your product or content catalog for up to 1 year. In addition to the filters available in the Recent Activity tab, you can also filter based on catalog/content attributes. Please refer to Catalog Activity for more information on the setup.
Note:
The search is case sensitive
Catalog activity contains a subset of events under Recent Activity
However, we enhance these events with catalog information as well as retain the data for upto 1 year
Blueshift expands your raw data to enable easy demographic segmentation. You can either directly pass demographic information into Blueshift or leverage Blueshift's data expansion. Some examples include:
We infer Gender based on first name using census information
IP Addresses are expanded into locations (city/state/country)
We provide two location operators

Recent location (city/state/country)
Proximity to a location (city/zipcode/latitude-longitude)
Recent location (city/state/country)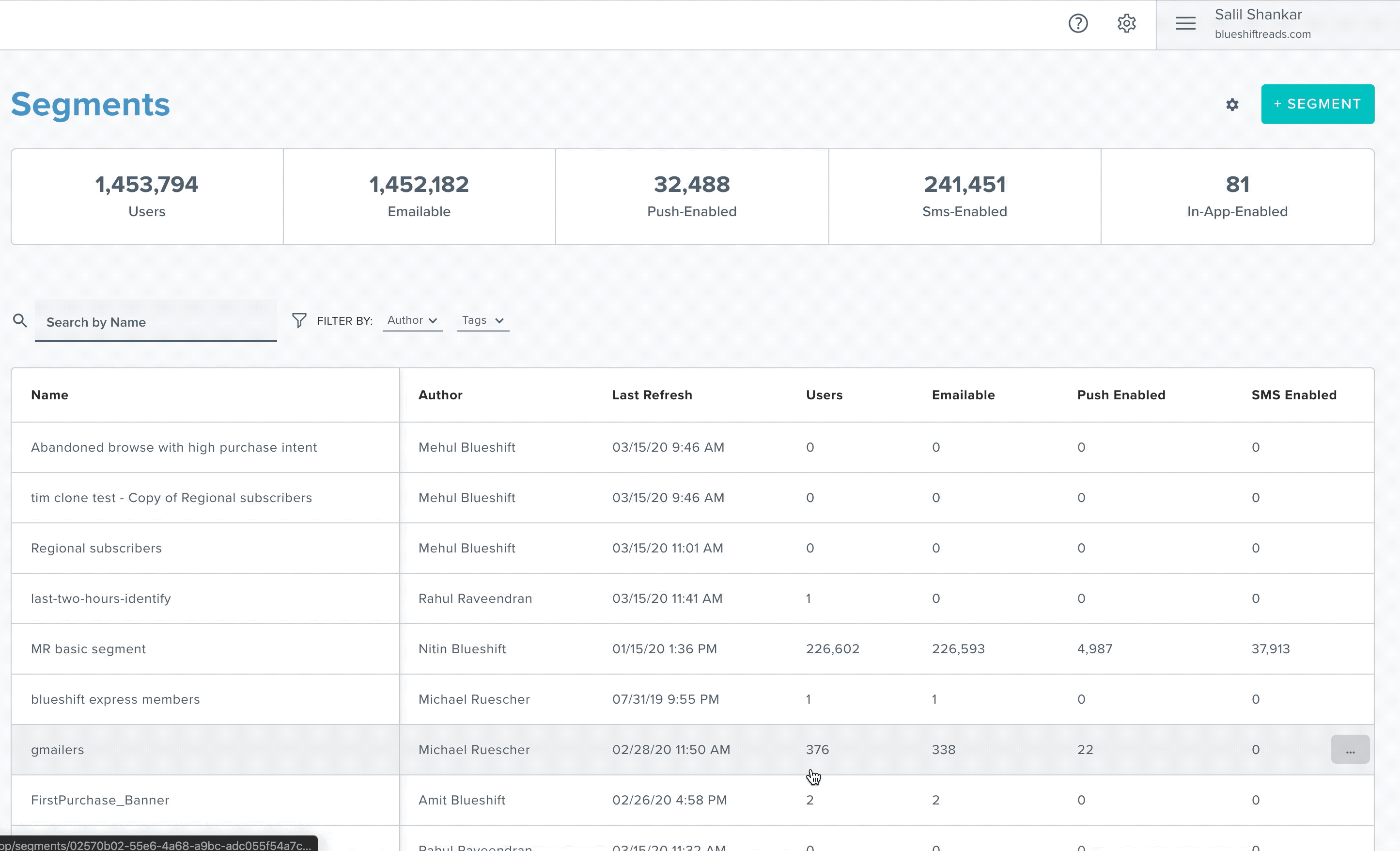 Proximity to a location (city/zipcode/latitude-longitude)
With Blueshift, you can not only segment by a user's past behavior, but also by various predictive scores. Blueshift's predictive scores can help you find users with a high or low likelihood of completing various actions in the conversion funnel and the user lifecycle.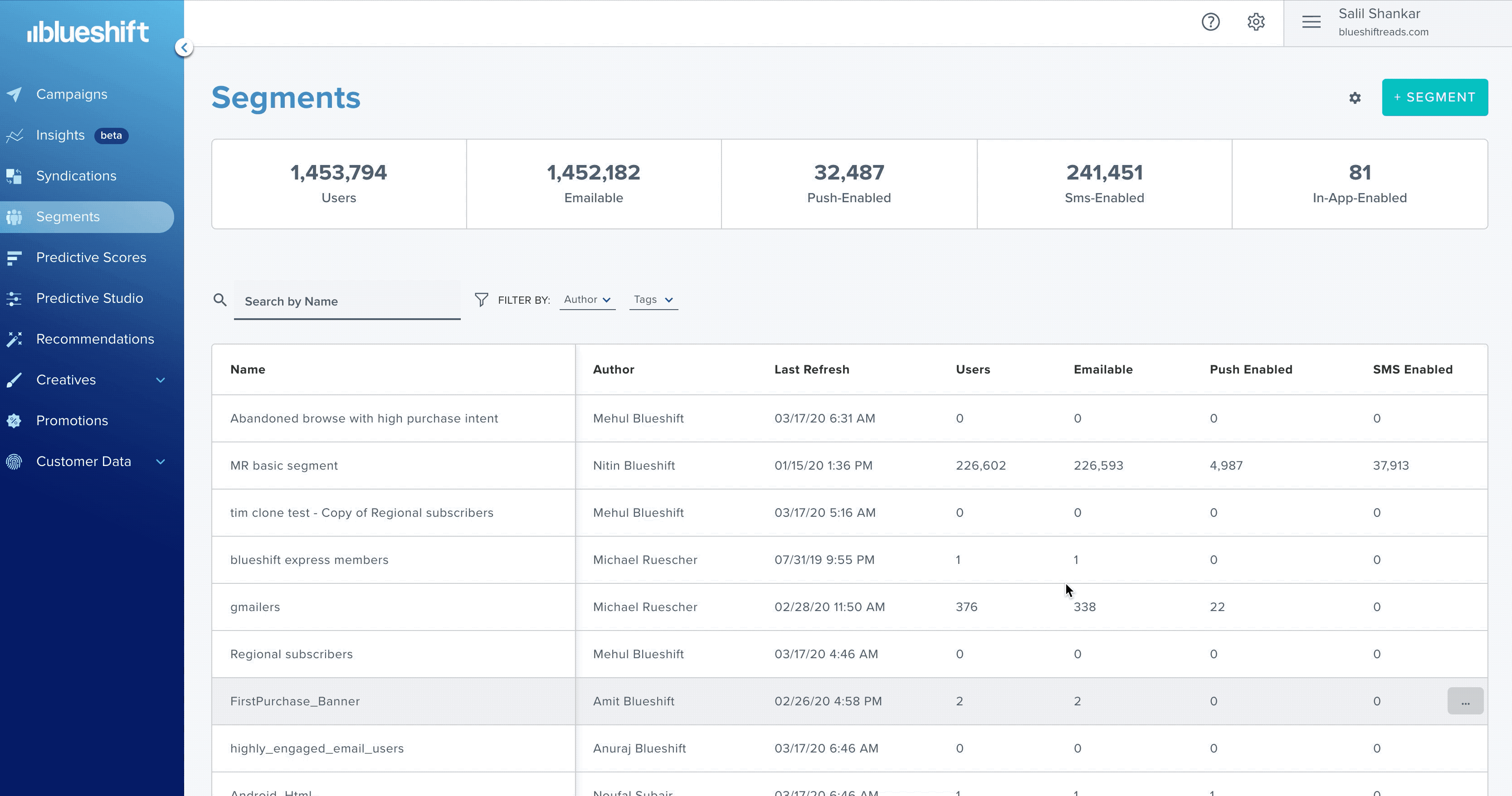 Navigate to the "Predictive" tab to understand the correlation of predictive scores with the metrics you care about.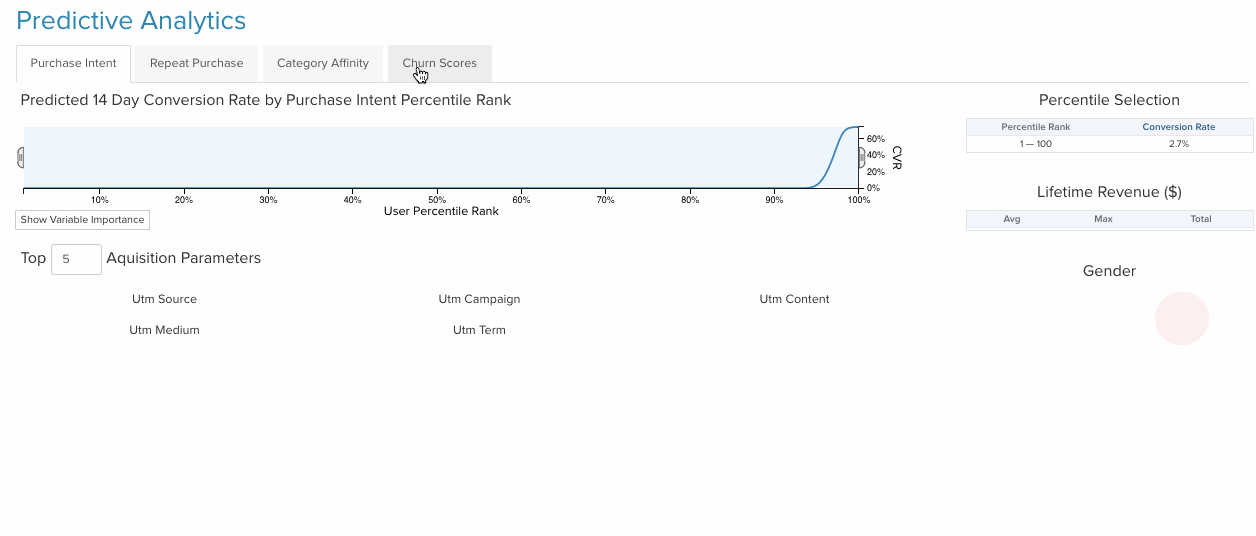 If your website or app has a large catalog of products or content, you will often find that users have affinities towards different sections of the catalog. Blueshift computes user affinities based on behavioral & transactional data and keeps the affinity scores updated in near real-time.
Marketers can easily use affinity data in creating their segments.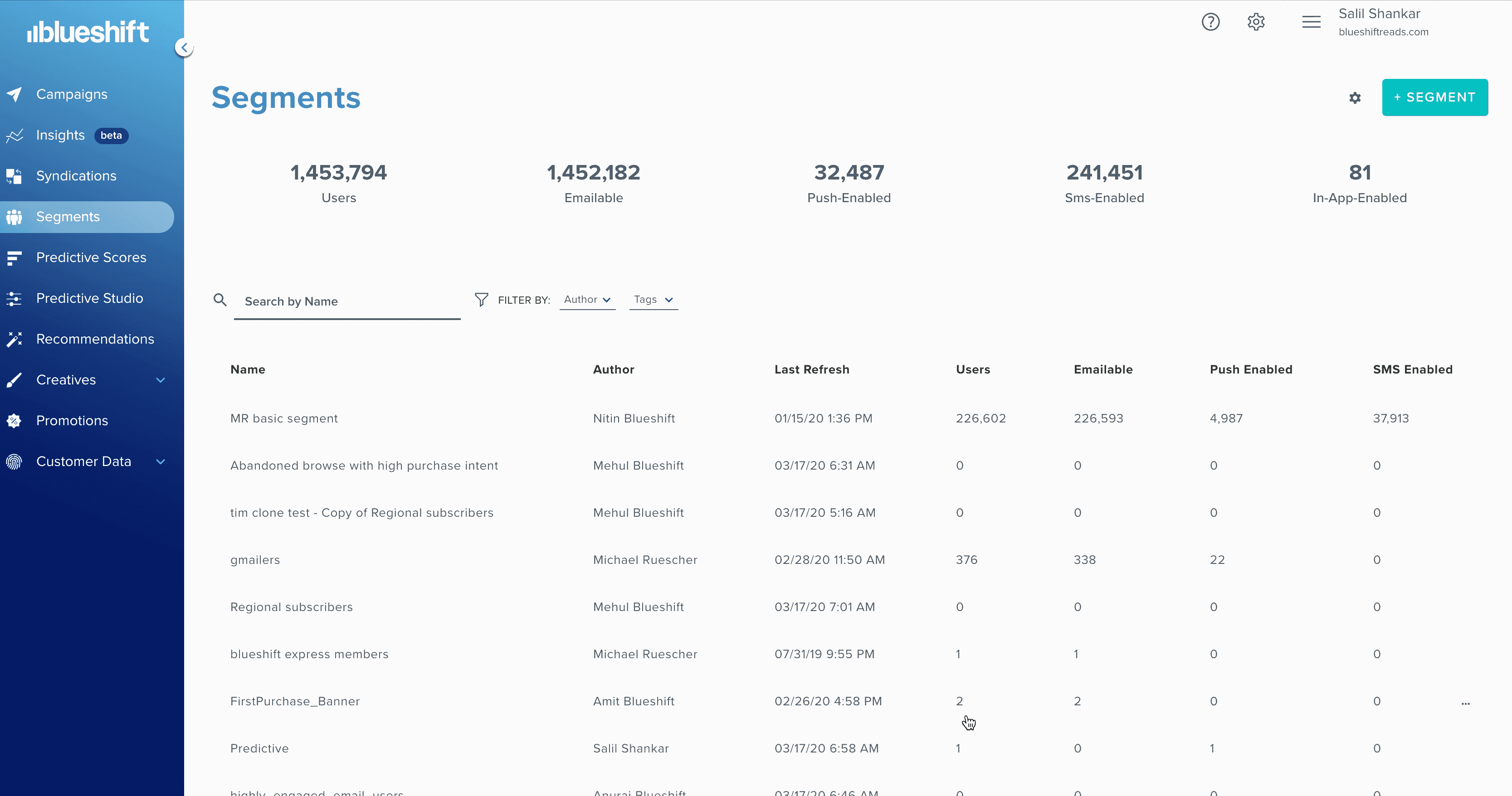 Blueshift stores the traffic source information on all your web traffic. With this, you can easily segment users by the source of traffic.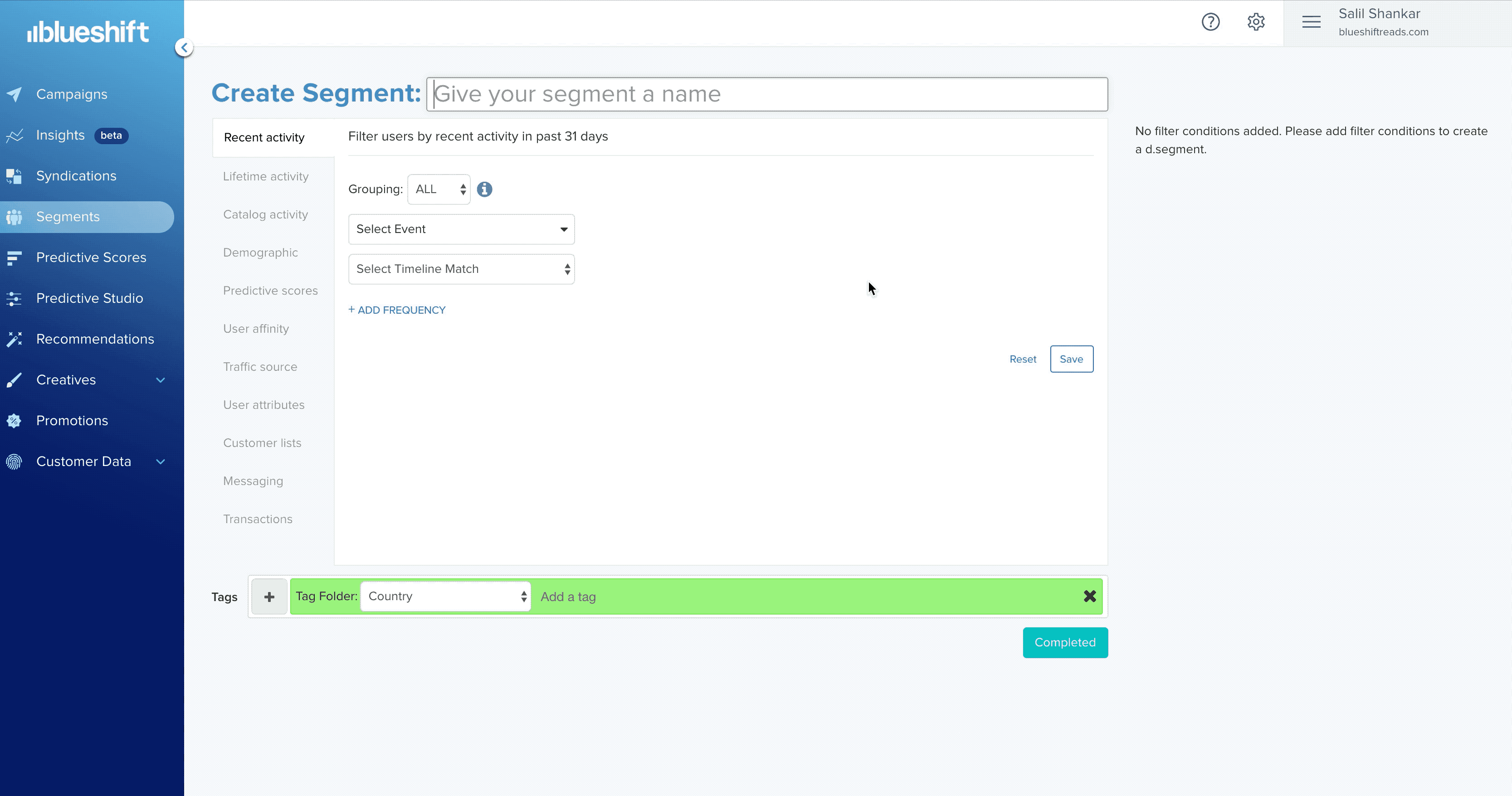 You can segment by any of the CRM attributes that you pass into Blueshift through the Identify event, User API or by uploading Customer Attributes through the dashboard.
In addition to this, Blueshift also computes some important user attributes, including first & last traffic source, location, unsubscribed_date, etc.
Note:
The search is case sensitive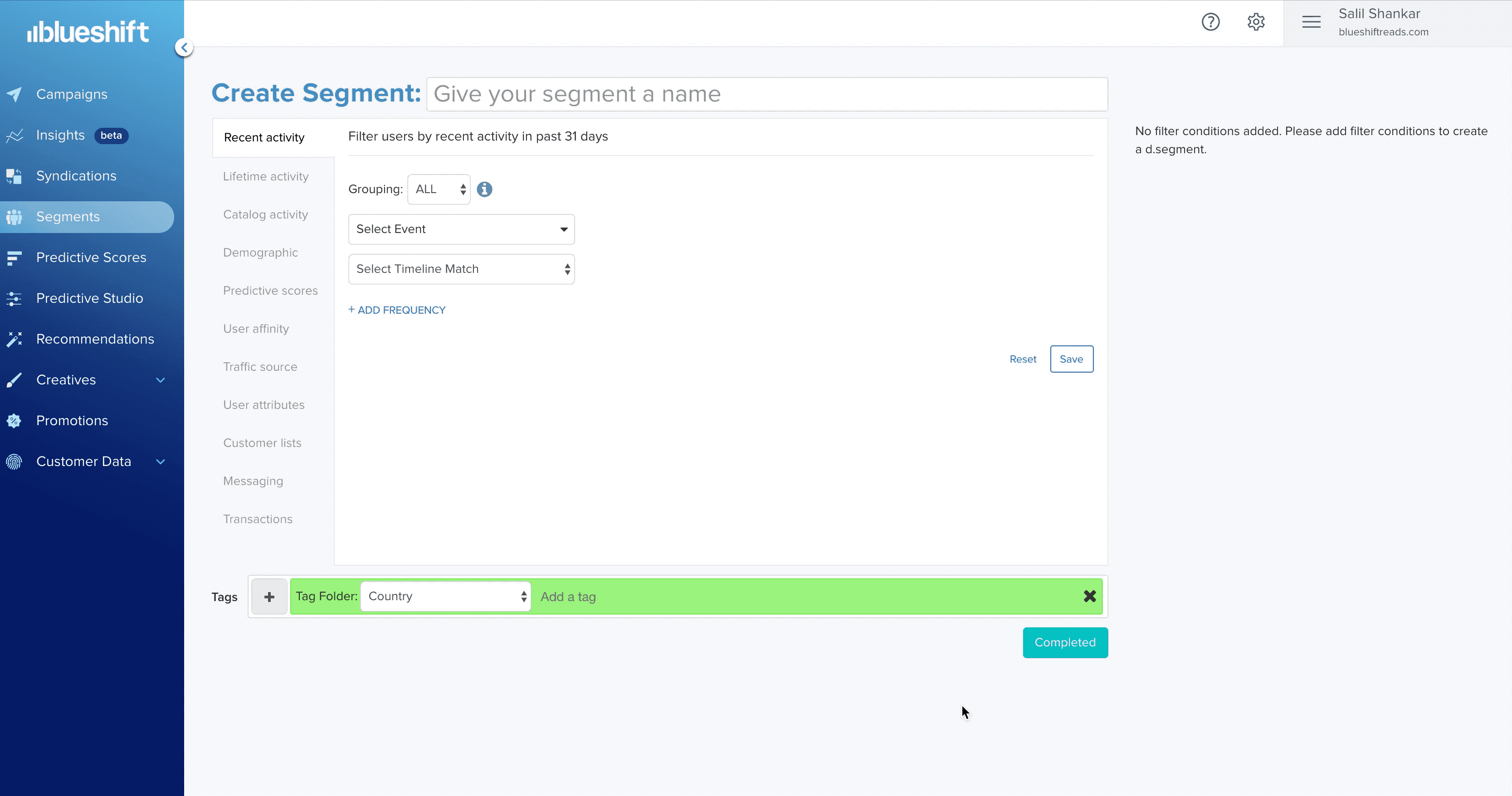 A Customer list is a static list of users which you can use to create segments. They have many uses, for example:
Withhold a randomly selected set of users from being messaged for purpose of a "control" group.
Upload a targeted list you may have computed outside of Blueshift, but want to send a message to
Once you've created a Customer List, you can reference it in the Segment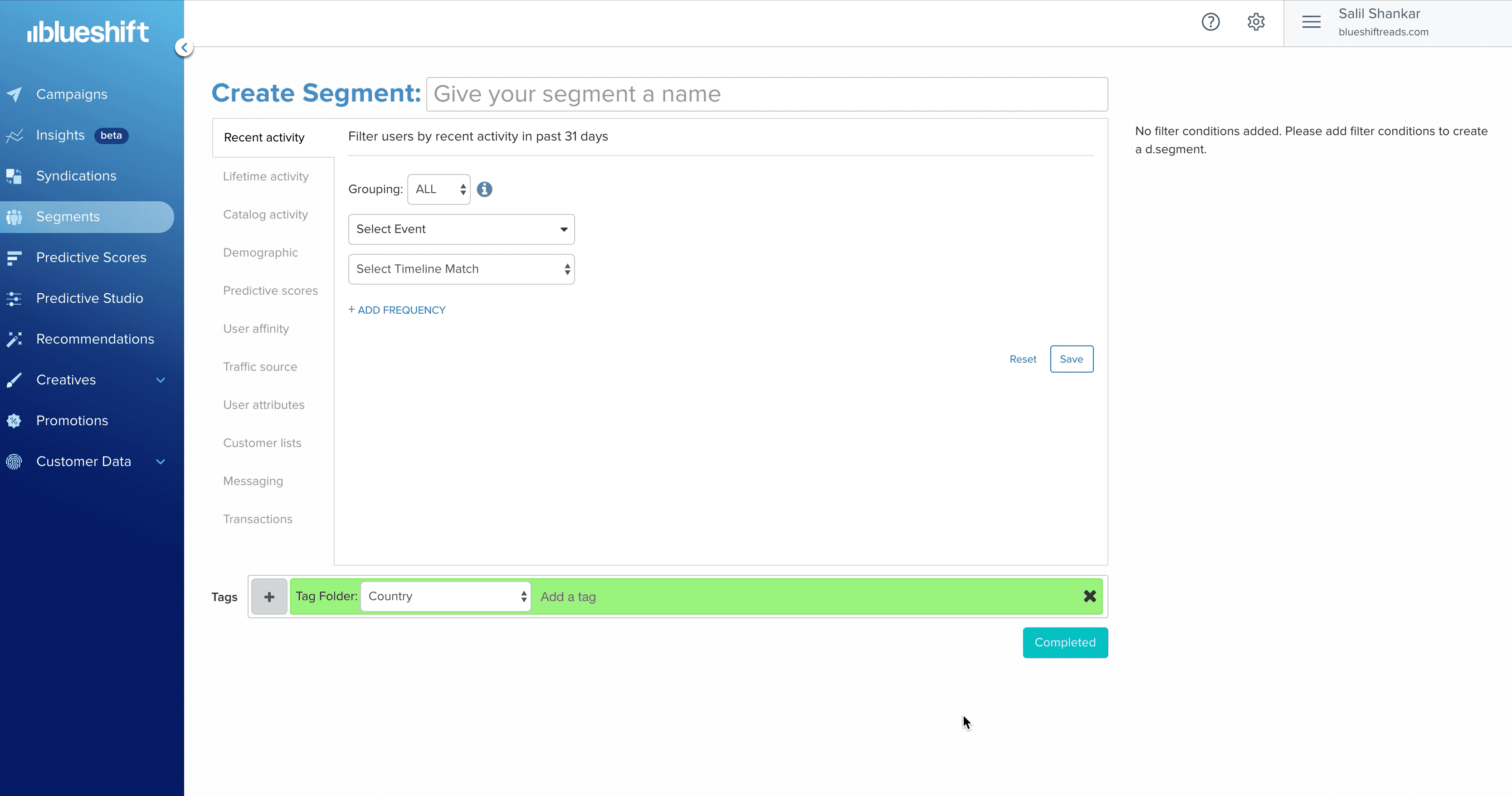 Segmenting users by their responsiveness to messages (push notifications, emails, SMS) helps marketers adjust the volume of messaging. More engaged users could be sent more marketing communications.
Blueshift provides a comprehensive solution for segmenting users by their response to messaging for up to 365 days:
Select the engagement metric: sent, open, click, purchase, bounce etc.
Select all campaigns or a specific campaign (drilling down to the experiment or trigger level) by channel
Select a fixed or a relative timeline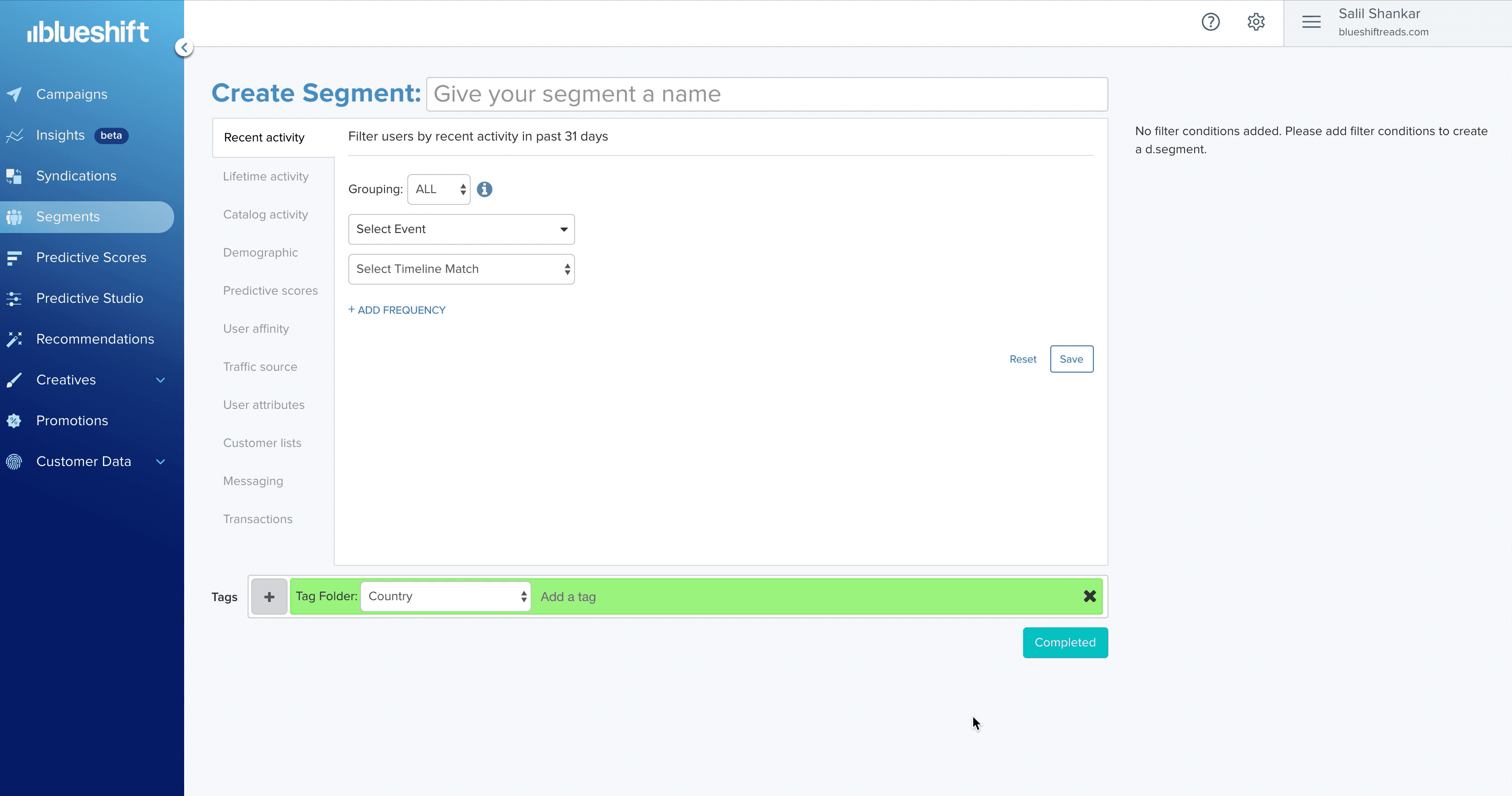 The Transactions feature allows you chain related events/activities and segment users on different states across their journey. The Transaction based segmentation empowers you to find users based on their transaction status. For instance, you could find all orders that were placed last week, but not shipped yet.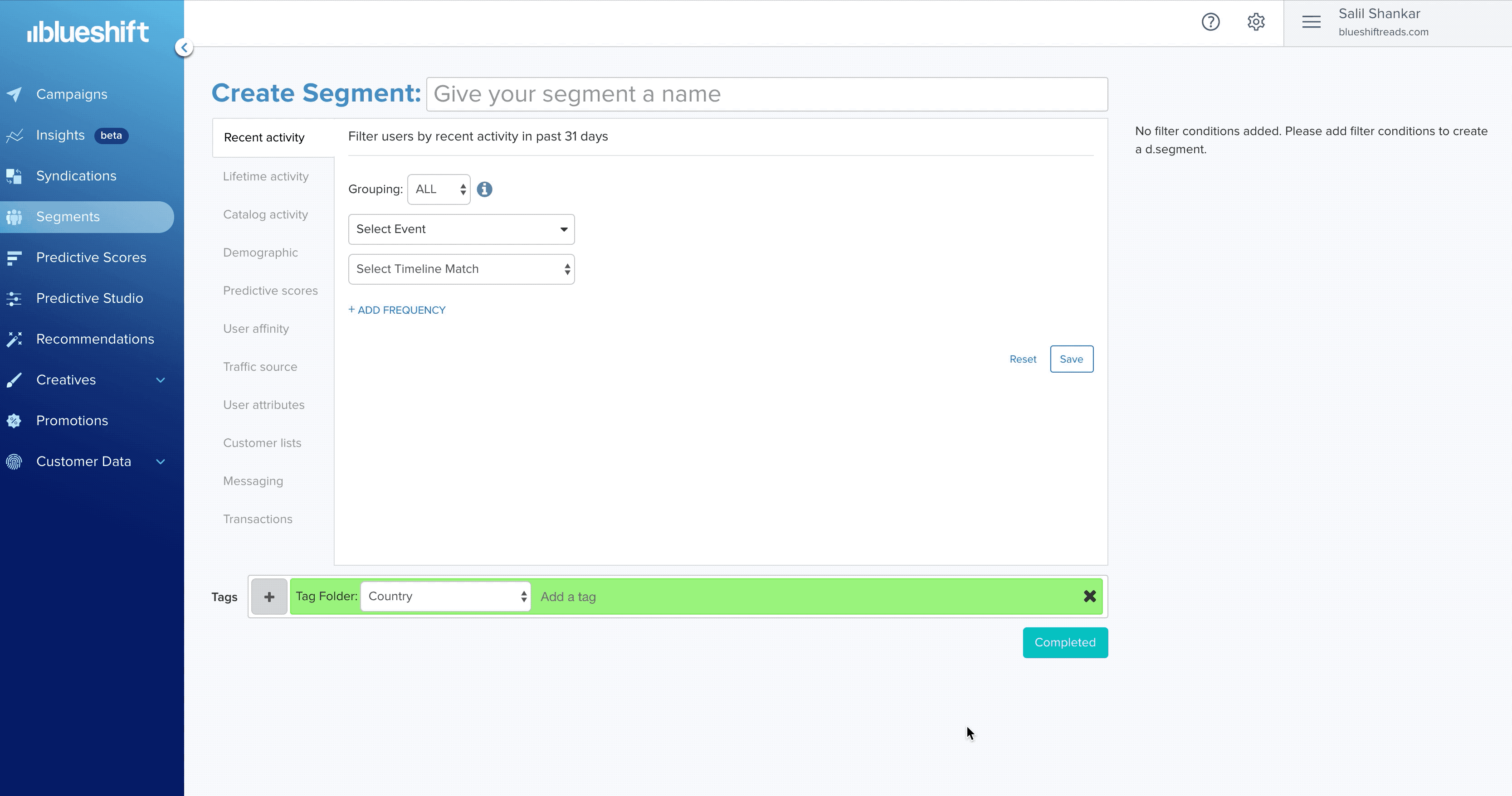 -Inactive cookies (no events) will be removed after 90 days
-Recent Activity allows last 31 days worth of events to be segmented
-Catalog Activity keeps product events for the past 365 days
-Messaging will include 365 days of user campaign actions (sent, open, click, etc.)
-Transactions will include 10 years of transaction data such as orders placed, returns initiated, items shipped etc.
Contact support@blueshift.com if you have questions about these limits.