Blueshift offers a variety of tools to manage your Account.
Depending on your access level, you can view API Keys here. We also provide the ability to manually regenerate your User API key and the S3 Folder Access key. If you generate a new key, ensure that all your scripts use the new key. The User API key expires as soon as you generate a new key, and the S3 Folder Access key expires after 30 days of generating a new one.

Enter appropriate information about your organization. At a minimum, we need to have Time Zone and Currency information. Otherwise, it will default to UTC and USD.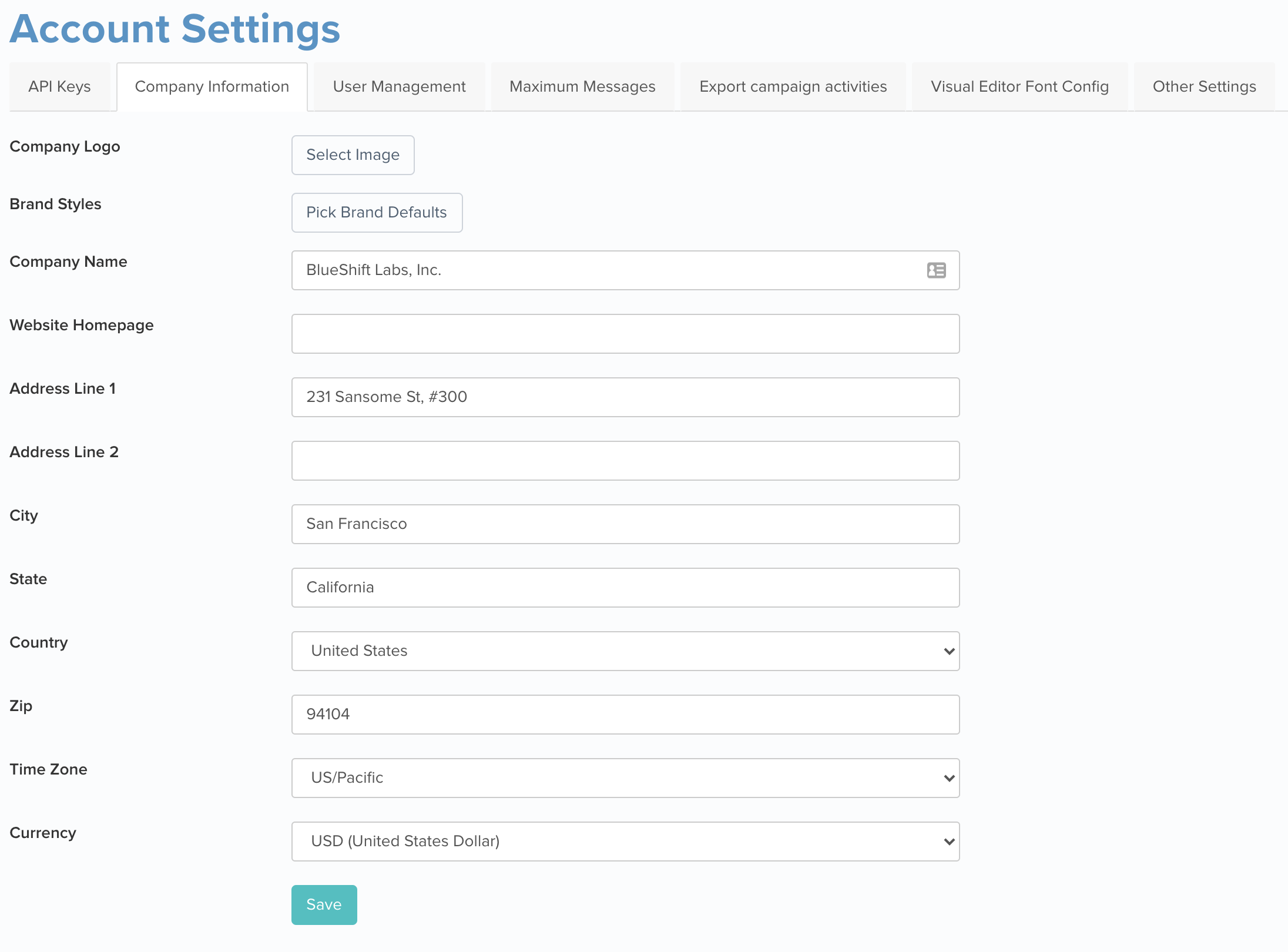 You can invite users & manage their permissions by navigating Settings-Account Profile-User Management. Admin users can also resend Blueshift account invitations to users who haven't accepted prior invitations yet. You can access the the User Management tab here.
Under the User Management tab, you can see two sections:

The Manage Users section provides options to invite and assign a role to a user to your account.
There are several roles available in Blueshift:
Admin - full access including view user api key and provision users
Manager - everything except view user key and provision users
Author - can only access Creatives section
Analyst - view only access
Operations - similar to manager, except cannot access user data (no segment export, view user profile, access detailed user level campaign activity etc.).
Your account comes with a specified number of seats, that you can see under the User Management tab. If you've filled all available agent seats, you can either make a user inactive to free up an already used seat or you can reach out to sales@blueshift.com to purchase more seats.

The Manage Roles section provides options to create a custom role and assign it to a user you invite above. Click the + Custom Role button to launch a page that provides options to add a role and specify the role's permissions.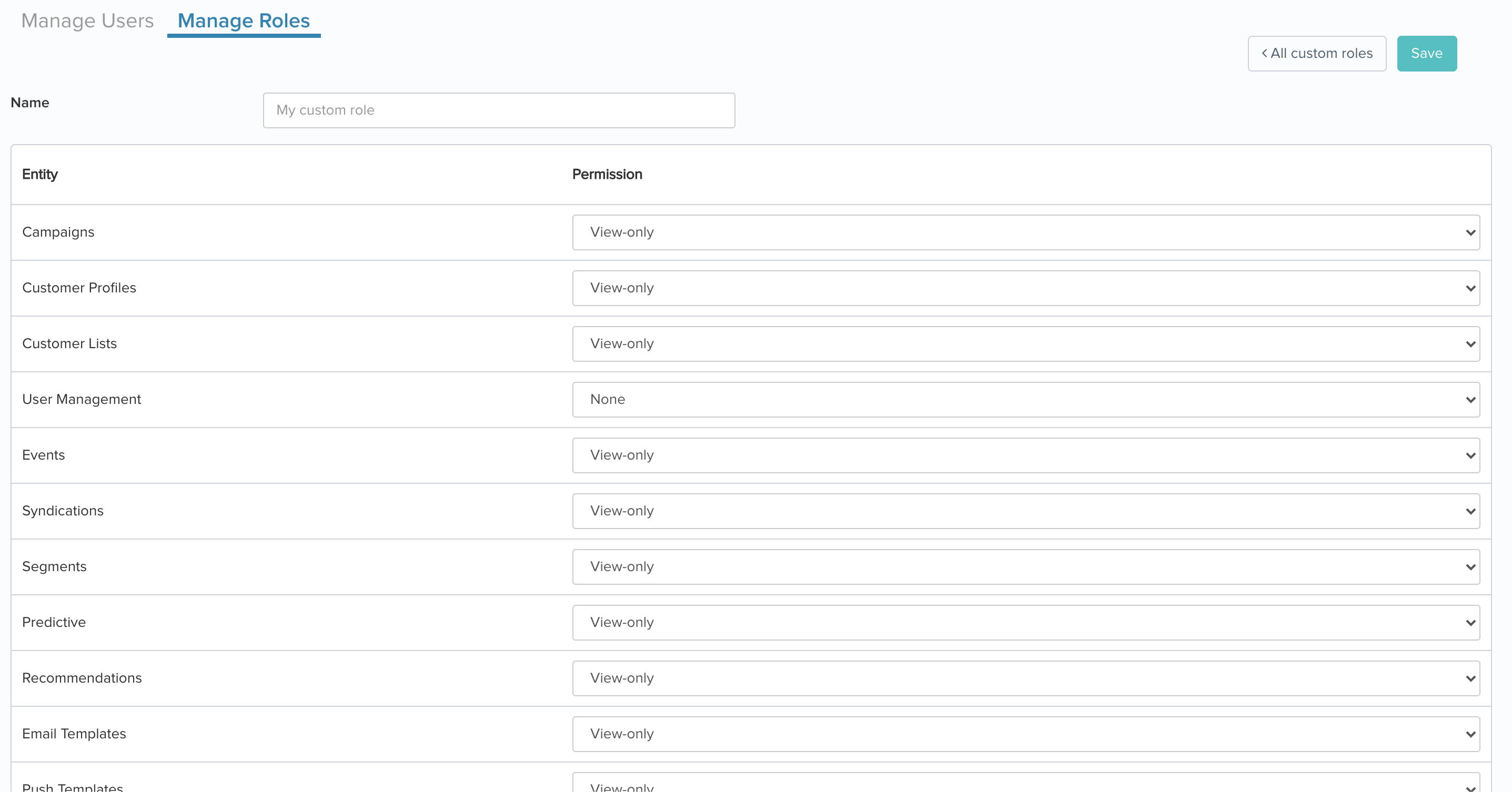 On the page that appears, you can choose that role's permissions and Save the role. Once you add a role, you can choose it in the Manage Users section when you invite a user to your Blueshift account.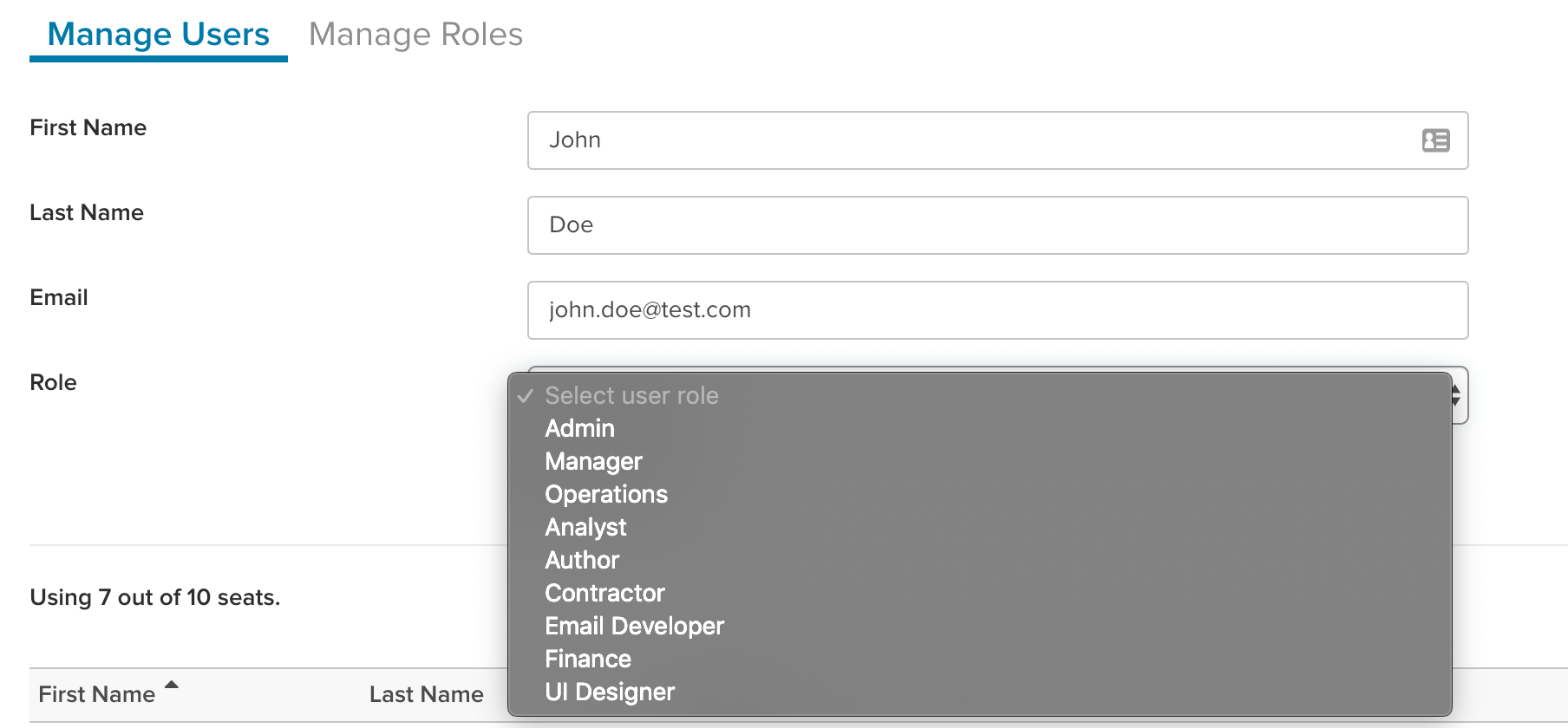 With Blueshift, you can create campaigns that target the same user across multiple contexts & channels. Marketers might wish to limit the total number of messages per user on one channel or across all channels combined. You can set these user level messaging limits by navigating to Maximum Messages.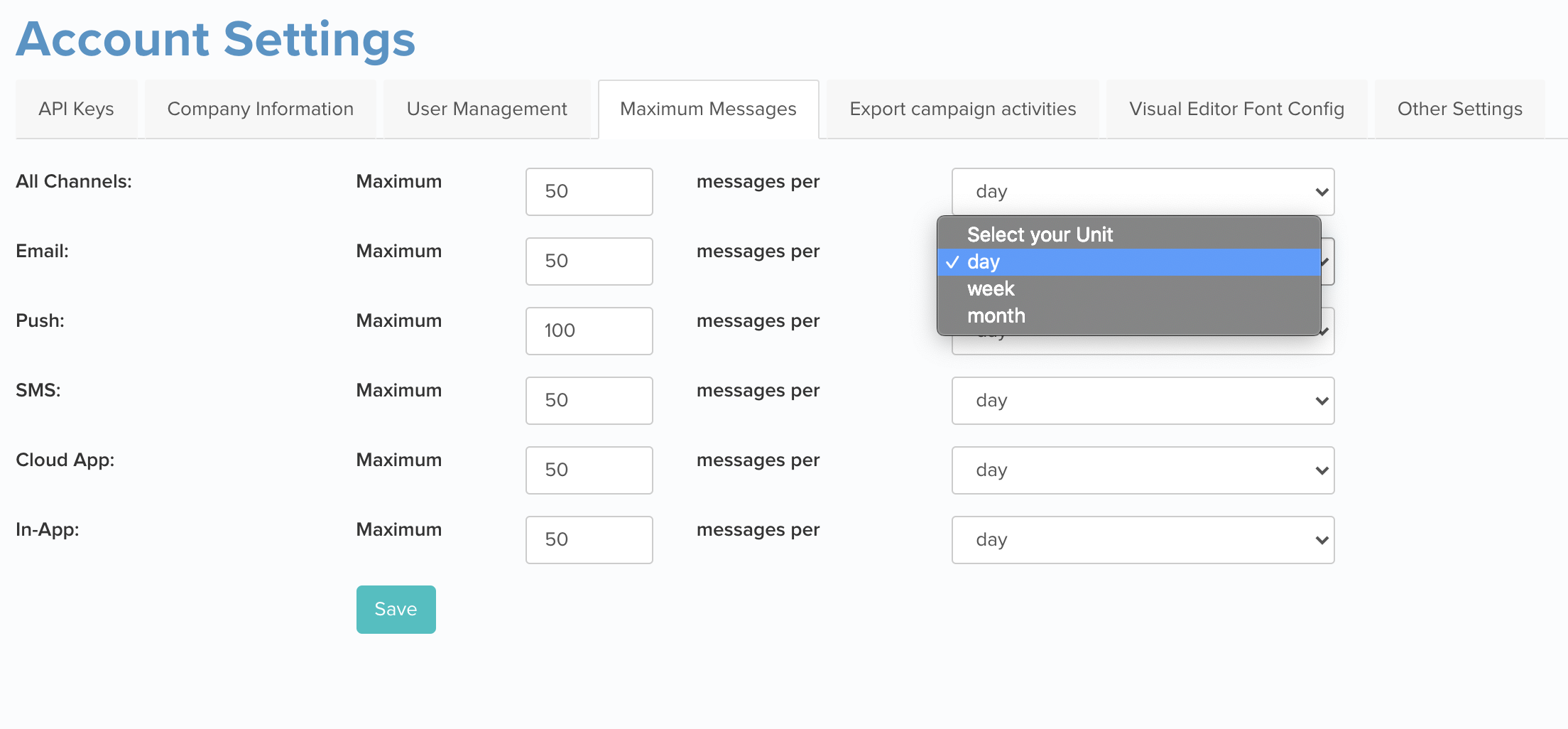 Note:

Every message (except for transactional campaigns) counts towards the user.
Blueshift can now export certain campaign activities each time a user interacts with a marketing email or SMS. The activities are open, click, unsubscribe, bounce, and delivered. You can use this to update analytics or route the data to other partners (we support segment.com and mParticle right now).
Campaign activity exports are currently offered on Email, SMS, Push, and In-App.
We provide more information about this on the Campaign activity export document. We recommend that you go through campaign activity export document to learn more about it.
You can use this tab to specify the font that you want to use in the visual template editor. You can use a font of your choice in the templates that you use to send messages to your customers. We provide a JSON that you can edit and specify the font of your choice.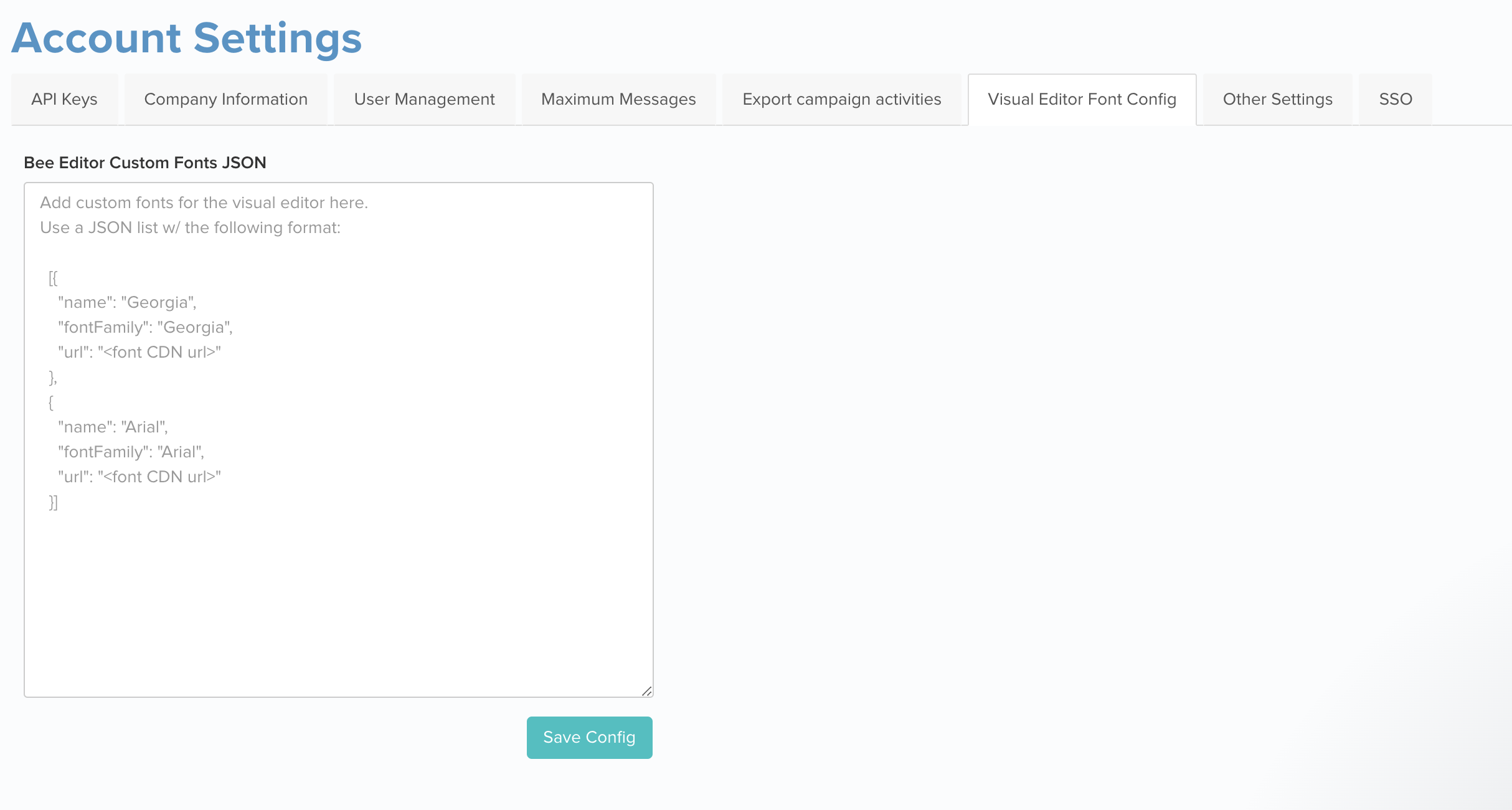 In addition, there are other settings that we provide and you can use.
Whitelabeling adds a CNAME record for a subdomain that you choose, which masks click and open-tracking links to your domain, rather than a Blueshift domain. This increases deliverability, builds trust, and strengthens your brand in your emails.

In order to use that, you should setup a CNAME in your DNS provider for your sub-domain (example: links.yourdomain.com) with a CNAME to links.getblueshift.com.
After creating the DNS entry, head over to Blueshift and enter the CNAME (example: links.yourdomain.com) in the CNAME field .

Link white labeling is supported at the account level (for all adapters) and at an individual adapter level (which works for email only).
Mobile Settings
You can provide contents of the AASA file and applinks file if you plan on using Blueshift's deep links. For more information, see Blueshift's deep links for Android and Blueshift's deep links for iOS on our developer portal.
We've added the ability to define a global inclusion segment. This is an optional, top-level safeguard that helps ensure an account can only message users based on certain user attributes. You can use this to restrict messaging to users who have opted in, based on user location or based on other business practices.
A global inclusion segment has the following characteristics:
There can only be one per account
The segment logic is limited to user attributes
A user must match the global inclusion segment in order to match any other segment
A user must match the global inclusion segment in order to eligible to be messaged by a campaign
Setting up a global inclusion segment is available to account admins under account settings.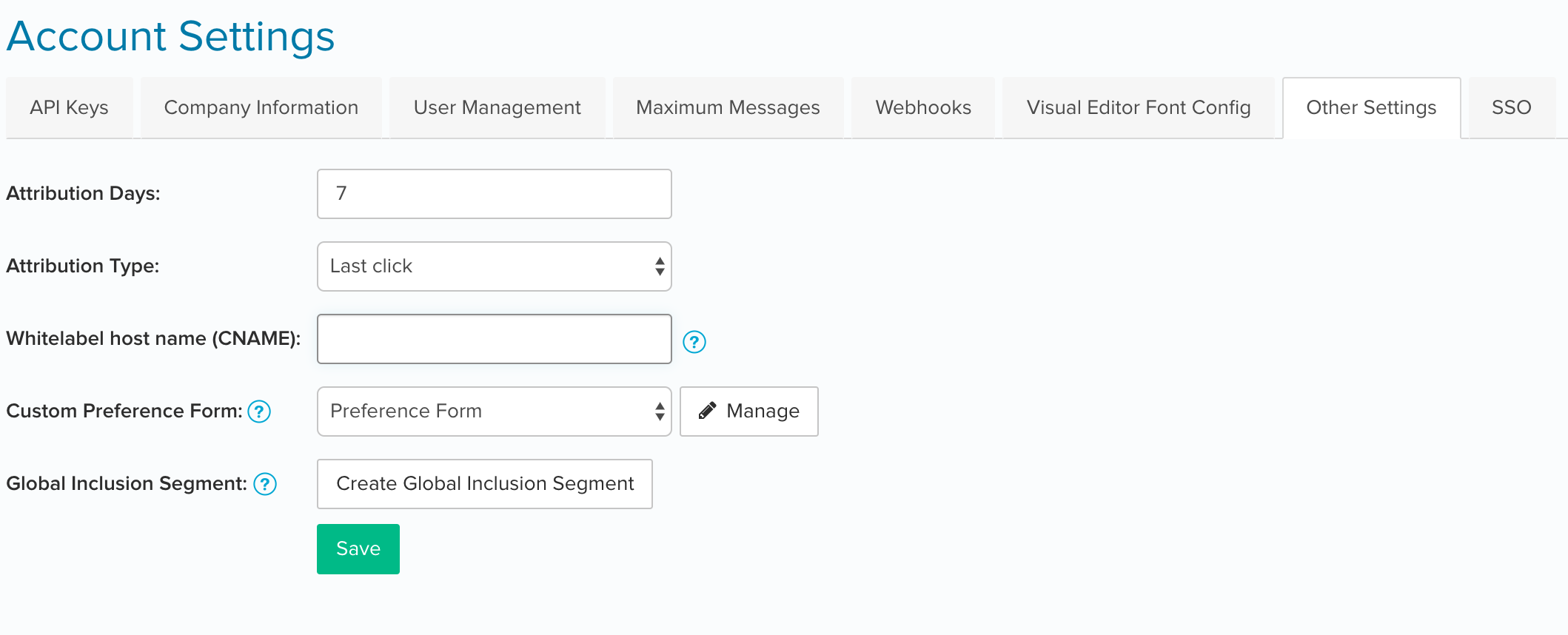 Here's an example of a global inclusion segment that restricts its account to only have access to users who have a last_location_country attribute equal to "USA". Users that do not belong to this Global Inclusion Segment will not be messaged on any channel.
At the time of creating or editing the segment, we provide an option to view the number of users in a segment if the global inclusion segment is not applied.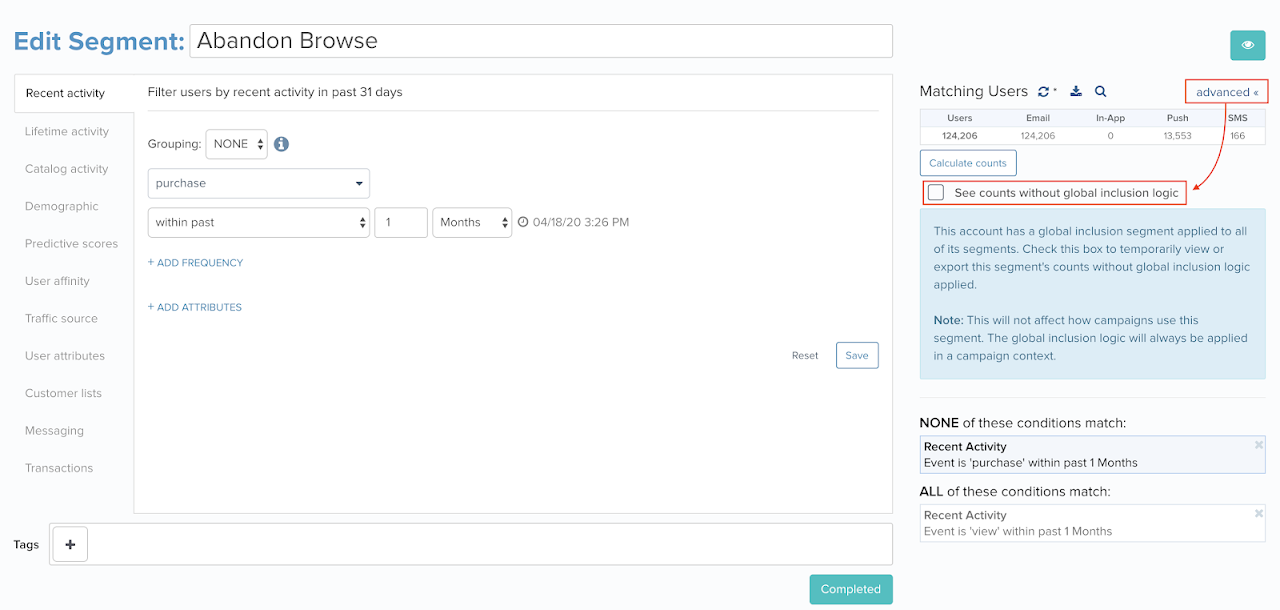 By default, you see the number of users in the segment with the global inclusion segment applied. You can click Advanced and then enable the See counts without the global inclusion logic setting. However, this option only shows the number of users in the segment without the global inclusion logic. It does not include users that are left out due to the global inclusion logic when you enable this setting.
Blueshift provides end-to-end reporting on Campaigns, enabling you to track conversions (purchase and other custom goal events) attributable to a campaign.
You can change your attribution settings by visiting this url: https://app.getblueshift.com/dashboard#/account/other
Blueshift currently supports the following attribution models. However, we recommend using Last Click, as it is the most conservative and widely used model.
Any View - If a user viewed a Blueshift campaign at any point during the purchase cycle (as defined in attribution days) regardless of other campaigns, it would receive 100% of the credit for the sale
Any Click - If a user clicked on a Blueshift campaign at any point during the purchase cycle (as defined in attribution days) regardless of other campaigns, it would receive 100% of the credit for the sale
Last Click - If the last touchpoint (click) before a purchase came from a Blueshift campaign, it would receive 100% of the credit for the sale
Blueshift's campaign attribution is intended as a helpful tool for marketers by giving visibility into downstream conversions of their retention marketing efforts. It does not consider other marketing programs such as customer acquisition and is not intended as a replacement of your overall attribution analytics tool across all your marketing initiatives.
Blueshift's attribution can report campaign performance against 'purchase' events or any other custom goals you may have resulting from Blueshift campaigns only. Any downstream conversion event can be setup as a custom goal, which you can get campaign performance reporting against it. Campaign attribution is built-in and does not need any additional changes on your website or mobile apps other than including Blueshift's Javascript pixel or tag manager, such as Segment.com.
Each time a 'purchase' or a custom goal event occurs, Blueshift's attribution engine looks for a campaign driven open / click action performed by the user (based on the attribution model configured above), within the period of time specified.
The attribution engine sorts all the click actions by time and picks the user's last session as a result of a click that had UTM parameters. If this click originated from a Blueshift initiated campaign, the 'purchase' or custom goal action would get attributed to the campaign and reporting counts updated.
Example: Below table reflects all Blueshift and non Blueshift activities (Google AdWords, Facebook Ads, etc.) a customer could have engaged in over the last few weeks. Also, let's assume that the purchase happens on Feb 26 (right after customer lands on your site after a clicking on a Google AdWords link)
| | | | | | |
| --- | --- | --- | --- | --- | --- |
| | Customer Activity | Click | Purchase | Any click | Last click |
| Feb 22 | Blueshift Campaign 1 | x | | No | No |
| Feb 23 | Blueshift Campaign 2 | | | | |
| Feb 24 | Blueshift Campaign 3 | x | | Attribute | No |
| Feb 25 | Blueshift Campaign 4 | | | | |
| Feb 26 | Google Adwords | x | x | | Attribute |
| Feb 27 | Blueshift Campaign 6 | | | | |
| Feb 28 | Blueshift Campaign 7 | x | | | |
| Mar 1 | Facebook Ad | x | | | |
Any Click - We would credit Blueshift Campaign 3 for this purchase. Even though last click came from Google AdWords, we are only looking at Blueshift clicks.
Last Click - We would only credit Google AdWords for this purchase and no Blueshift campaigns.
You can also specify a percentage of customers who don't receive messages from a campaign to measure the impact of running a campaign against a baseline of doing nothing. For more information, see Control groups.