Blueshift offers a variety of tools to manage your Account.
You can access and configure the following account settings:
To access Account Settings, click the hamburger menu next to your user name and then click Account Settings.

Campaign Settings
Attribution
Blueshift provides end-to-end reporting on Campaigns, enabling you to track conversions (purchase and other custom goal events) attributable to a campaign.
For more information, see Campaign attribution.
Export campaign activities
Blueshift can export certain campaign activities each time a user interacts with a marketing email or SMS. The activities are open, click, unsubscribe, bounce, and delivered. You can use the Campaign Activity Export tab to update analytics or route the data to other partners.
Campaign activity exports are currently offered on Email, SMS, Push, and In-App.
For more information, see Campaign activity export. We recommend that you go through the campaign activity export document to learn more about it.
Template Settings
Visual Editor Font Config
You can use the Visual Editor Font Config tab to specify the font that you want to use in the visual template editor. You can use a font of your choice in the templates that you use to send messages to your customers. We provide a JSON that you can edit and specify the font of your choice.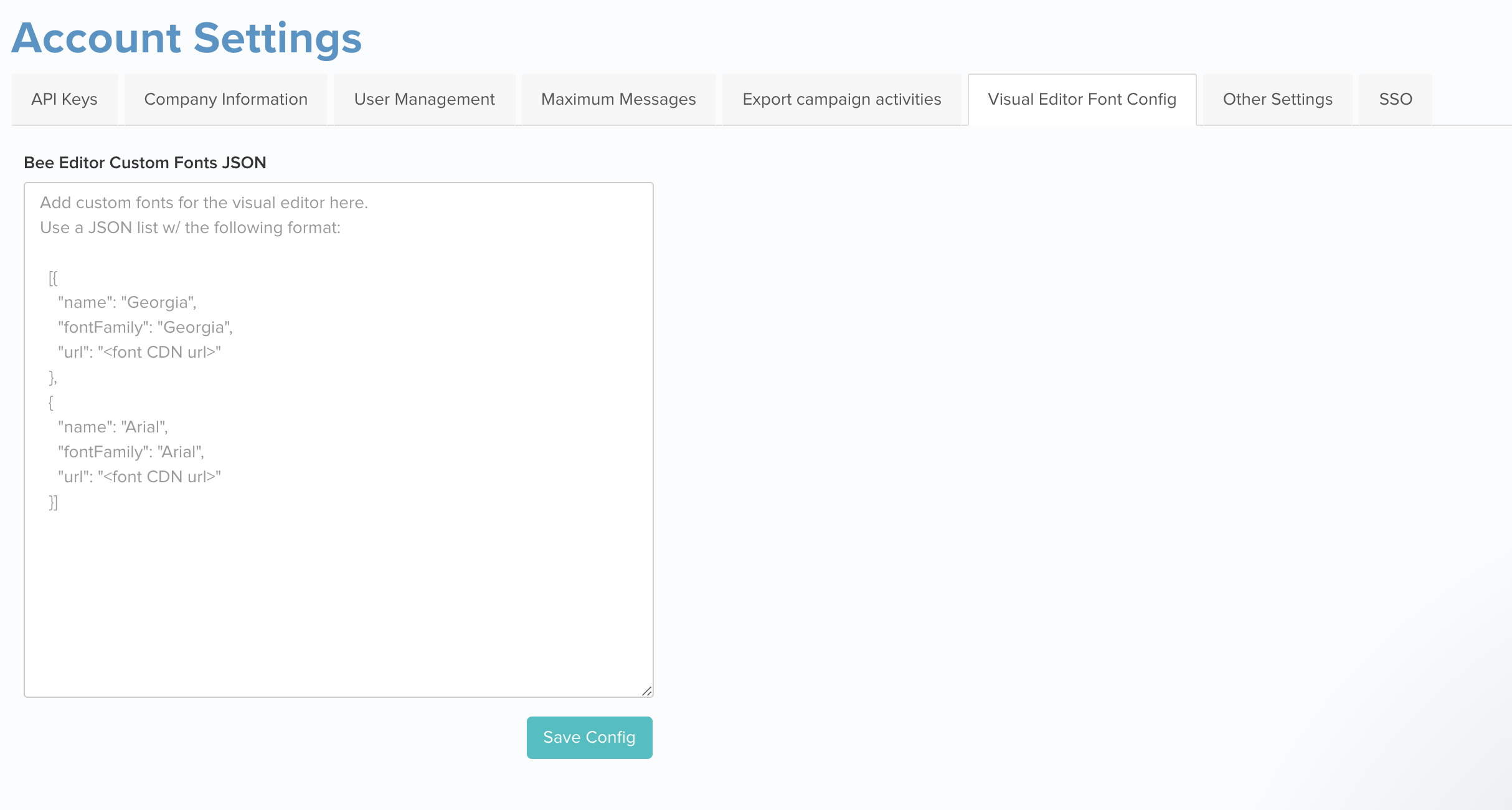 Mobile Settings
In the Mobile Settings section of the Other Settings tab, you can provide contents of the AASA file and applinks file if you plan on using Blueshift's deep links. For more information, see Blueshift's deep links for Android and Blueshift's deep links for iOS on our developer portal.
For information about using mobile apps, see Manage campaigns for multiple mobile apps.