Blueshift offers a truly omnichannel orchestration and execution platform. Using Blueshift's intuitive template design studios, you can easily design messaging templates to send engaging messages that are relevant, timely, and fully personalized to your users.
Using Blueshift's email templates, you can engage users throughout the customer lifecycle with relevant and personalized email messages.
With the Email studio, you can easily personalize templates for your branding, images, preferred layouts, color schemes, and so on. You can deliver dynamic content based on real-time behaviors, activity level, predictive scores, and more to ensure every message is relevant. Build emails quickly with Blueshift's intuitive design studio or use a template from Blueshift's robust template library consisting of a couple of hundred out-of-the-box, ready-to-use templates.
For more information, see Email templates.
Mobile devices have redefined how consumers engage with brands and seek information. Nowadays, most customers engage with your brand on their mobile phones. The ability to reach these customers is critical for brand awareness, driving engagement, and delivering time-sensitive information to drive conversion customers on the go.
With Blueshift, you can create highly-contextualized and timely Push, In-App, and SMS messages that integrate into the greater customer journey to keep your customers engaged.
Using the unified view of the customer that is updated with real-time behaviors and with Blueshift's predictive capabilities, you can extend your brand's experience and make every mobile touchpoint count.
Blueshift supports the following three mobile marketing channels in addition to email marketing:
Blueshift provides pre-built integrations with several Cloud Apps that you can use in your campaigns. Blueshift also supports Custom apps with API calls made to a third party REST API with a JSON payload.
You must use Cloud App messaging templates to send messages in campaigns using these Cloud Apps. These messaging templates can include 1:1 personalization and predictive content, including user attributes, predictive scores and content recommendations.
For more information, see Cloud app templates.
With Blueshift's Live content, you can create a personalized experience for customers when they visit your website or use your mobile app. Live content is displayed in dedicated slots on your website pages or app screens. With Blueshift's intuitive creative studio for live content template design, you can easily build templates and personalize them to include branding, images, preferred layouts, color schemes, and more.
For more information, see Live content templates.
Some of the actions that you can complete using the template action menu include:
Edit, clone, copy-to, and remove templates.
Select and archive multiple templates at one time.
Test Send the templates.
For email templates, you can view the Engagement Report from the actions menu.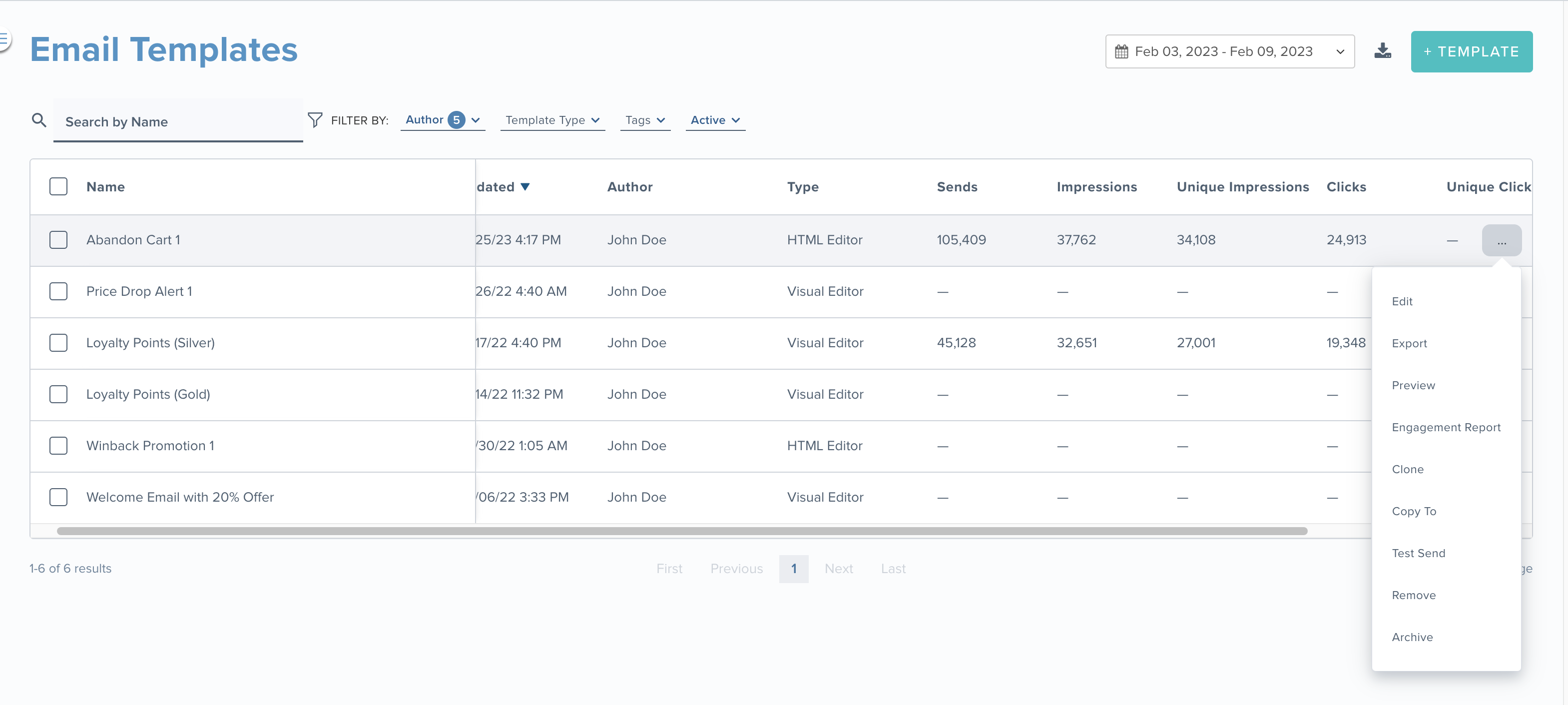 Archiving helps to declutter your work space by moving templates that are no longer is use out of view. This makes it easier to find and manage current and important templates. It also improves the loading time of the dashboard because there are fewer templates to load.
You cannot use an archived template in any campaigns. But you can still search for them and access them if required. You can also unarchive an archived template if you want to use it in a campaign in the future.
Email templates
When you archive an email template, the most recent version of the template is saved along with all older versions of the template that had send activity. All other versions of the template which were never sent to any customer, are deleted.
If you unarchive a template after archiving it, you can revert to the most recent version of the template or to an earlier version that was sent to customers.