Mobile In-App messages are notifications built to interact with customers when they are actually using a mobile application. By using in-app messages, you can enhance the customer experience by providing useful information to guide customers through the onboarding process and by providing updates about limited time-offers and personalized product recommendations.
Mobile In-App messages are typically used when a significant event or activity occurs within the mobile app that requires the user to perform an action or is a time-sensitive piece of information that will benefit them.
Note: Web In-App messages are referred to as "in-browser" messages.
Blueshift's In-App studio provides an easy-to-use interface for creating engaging in-app content. Once an in-app message has been created, it can be used in the campaign journey editor along with content for other channels like email, push, SMS, cloud apps etc. to execute a multi-channel engagement strategy.
With Blueshift's intuitive creative studio for in-app message design, you can:
Easily build templates with the drag and drop visual editor or by using custom HTML.
Set up templates for Slide-in messages or Modals.
Personalize templates to include branding, images, preferred layouts, color schemes, and more.
Use the open source version of Liquid templating language to reference and create personalized content in your emails. For more information, see Personalization using Liquid.
Include a recommendation algorithm to automatically suggest products personalized for a customer. You can also see predictive scores and affinities that are associated with a customer's profile. You can use such values to include or exclude recommendations from the in-app message that your customers receive.
Include data from an external source in your templates. For more information, see External Fetch.
The In-app studio allows you to create In-app templates which you can then use in one or more campaigns to send personalized In-app notifications to your users. Blueshift allows you to easily clone In-app templates which you can then edit to create different versions of the original. If you have multiple accounts, you can also copy over In-app templates to a different account. Refer to Copy templates or assets to a different account for more information.
You must use the latest Blueshift SDK (iOS, and Android) in order to leverage this feature in your app.
You can view all your in-app templates by going to Creatives > In-App.
To add an in-app template, go to Creatives > In-App and click +TEMPLATE.

The In-App Studio is where you can find all the information for your in-app template.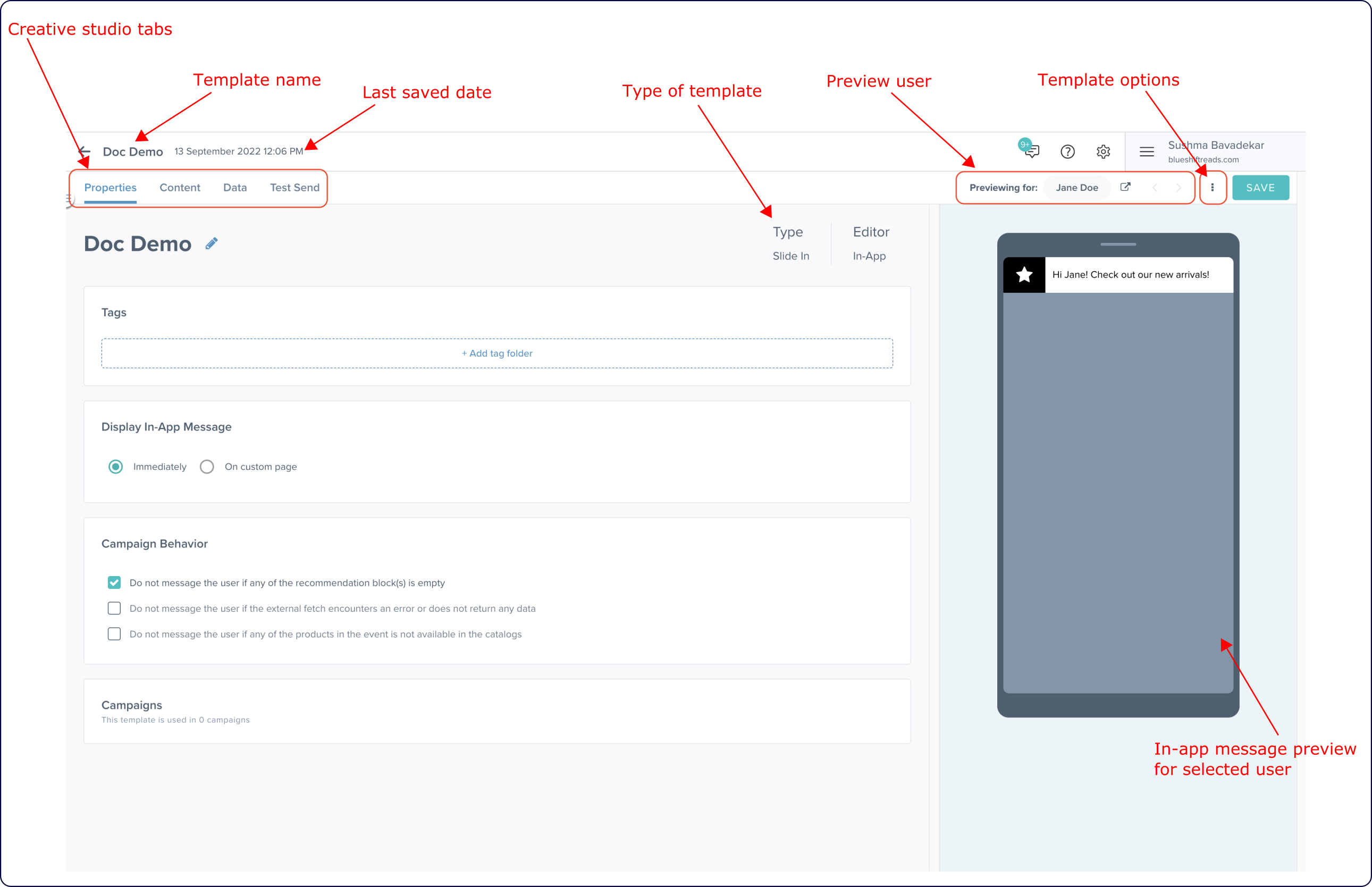 You can view the following information from all the tabs:
Template name
Last saved date for template
You can complete the following actions from all the tabs:
Select a preview user.
View in-app message preview for selected user.
Use template options to clone, delete, and archive templates.
The various studio tabs provide options to configure the template.
You can view and specify the following basic template properties from the Properties tab:
The template name
Its organization using tags and tag folders
Location of message in the app
Campaign behavior properties
The Content tab is where you will design the in-app template. Here you will specify the content of the in-app message template and add personalizations and recommendations as required.
From the Data tab, you can add data sources that you want to use in your content, for example recommendations, external fetch, and events.
Send a test message to one or more mobile devices.