Events are one of the data points that occur on your site that we want you to import into our platform. You can use the Event Imports dashboard to import your events. You can either:
Upload the file once and import it into our platform
Upload files to the S3 bucket that we provide and schedule imports into our platform
Or, upload files to an S3 location of your choice and provide us access to the S3 location so that we can import files from there
Following sections describe how you can create the CSV file that contains information about events on your site and our platform can consume it.
Prepare a csv with a user identifier (email or customer_id) and a list of event attributes that you want to import.
Data Format
customer identifier (email or customer_id)
Product Id list (separated by a delimiter if there are multiple products)
Sample Data:
| | | |
| --- | --- | --- |
| email | product_ids | revenue |
| testuser1@gmail.com | SKU0000|SKU1111 | 120.5 |
| testuser2@gmail.com | SKU222|SKU333|SKU5555 | 112.7 |
We recommend that you include a timestamp field. If you don't set the timestamp field, our platform considers the event's timestamp as the time when the event is imported into Blueshift. Ensure that you provide the timestamp in the iso8601 format. For example, 2016-02-02T04:19:42Z. You can also take a look at a sample CSV whose link is available when you import event data into our platform.
Ensure that event names do not contain periods, are not numeric, and the event name must not have more than 64 characters.
In addition, the data format limitations on the user imports are applicable to event imports as well.
On the Event Import Index page, click + Event Import to either create an event import feed or upload the CSV file once.

You can also click on the "Import" button if you want to import events into an existing event feed

Provide the following details on the Event CSV Import page that appears: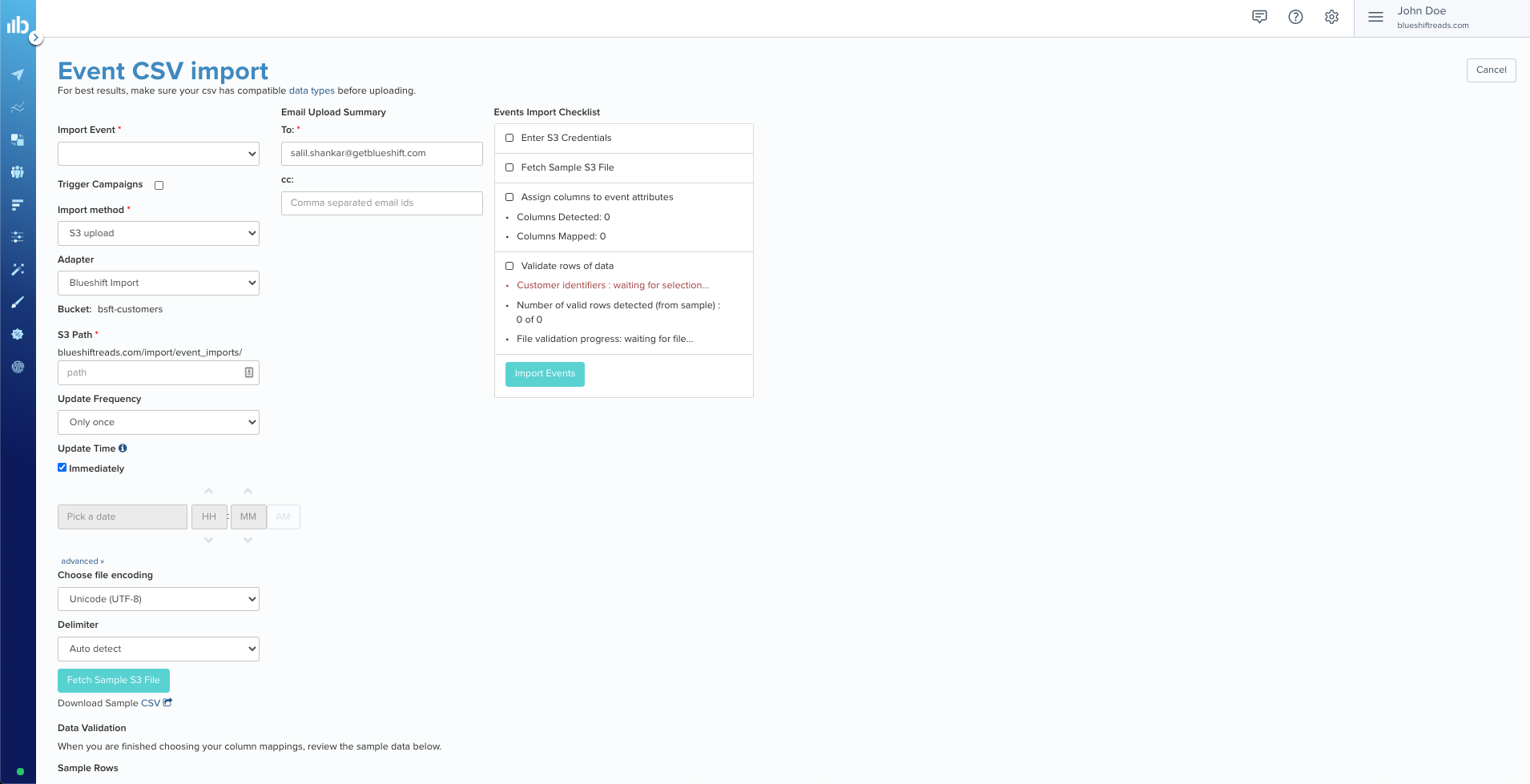 Import Event
Specify the event that you want to import. For example, you can choose add to cart, purchase, or identify. The files that you specify here will update the data of the event that you choose in this field.
Trigger Campaigns
Turn this setting on if you have event triggered campaigns that are linked to this event and our platform should trigger the campaign if its triggering conditions are met with an event import.
Import Method
Choose File upload if you are doing a one time upload. If you plan on setting up recurring uploads, choose S3 uploads and specify S3 settings in the following sections that appear.
Adapter (if the import method is S3 uploads)

You can either choose to upload files to a location that we provide or you can choose an S3 location of your choice and provide us its details. Ensure that your S3 bucket has a CORS configuration. If you plan to use the S3 bucket that we provide, choose Blueshift Import. If you choose Blueshift Import, here are the additional details that we need:

S3 Path: Specify the path where you upload files with event data. For example, you can create a location on the S3 bucket called /event-imports/blueshiftreads, and upload files to this path. Specify this path here. You can get more information about the S3 bucket that we provide on the Account Settings page of the Blueshift app.

If you plan to use your own S3 location, choose Custom Import. Options to provide additional details appear if you choose Custom Import. Here are the additional details that we need:

Access Key: The Access Key ID that we use to get the event's files from your S3 bucket.
Secret Access Key: The Secret Access Key that we use to get the event's files from your S3 bucket.
For more information on the Access Key ID and Secret Access Key, see Programmatic access on AWS documentation.
Bucket: Provide the URL to your S3 bucket where you store the files.
AWS Region: Specify the AWS region where the S3 bucket resides.
Path: Specify the path on the S3 bucket where you upload the files with event data.

For more information, see Working with Amazon S3 buckets on AWS documentation.

Update Frequency (if the import method is S3 uploads)

If you choose S3 uploads as the import method, you can specify how often we should pick your event data and import it. For example, if you are uploading files to the S3 location every week, we can pick the file weekly. Your options are:

Only once
Weekly
Daily
Hourly

In addition, you can specify Update Time. You can use this option to let our platform know whether:

It should import files from the S3 location instantly
Or it should start the import at a date and time that you specify (for weekly, daily, and hourly imports). In addition, you can also specify when our platform should stop importing the files based on the setting that you specify in the End option.

Advanced

You can click advanced and specify the character encoding of the CSV file you upload. You can choose either Unicode (UTF-8), Unicode (UTF-16), or Western Europe (ISO-8859-1).

Fetch Sample S3 File (if the import method is S3 uploads)

Use this button to let our platform fetch a sample CSV file from the location that you specify in the Adapter field.

Download Sample CSV

You can download a sample CSV and review its format to understand the type of file our platform can ingest.
After you fetch a CSV file from the S3 location/upload a CSV file, the Map Event Attributes section is enabled that provides options to map event data from your site with the event data on our platform. The following section describes how you can use it. Specify an email address under the Email Upload Summary section to receive a notification when the upload process completes. If there are errors, we send an error report as well. You can send a copy of the notification to multiple people using the cc field.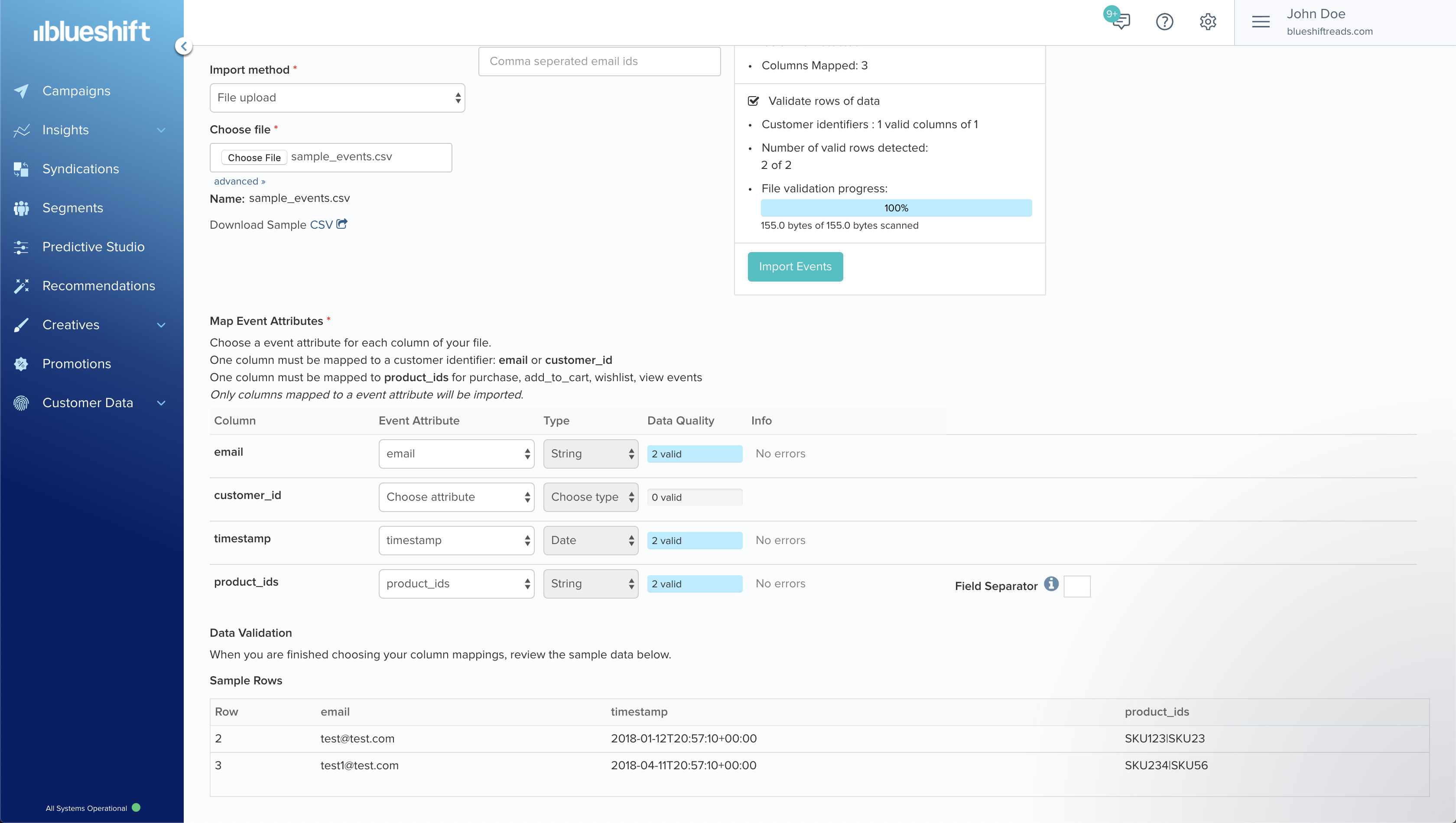 Our platform validates the CSV and matches the fields on our platform with the event data that you provide. We have described various events our platform can capture on this document of our developer portal. In this document, we discuss how event data from your site can be sent to our platform using our API endpoints. Even though this document is geared towards API integration and not CSV uploads, you can still make use of that information in formatting and creating your CSV files that we can make use of. You can also take a look at the data types and attributes document to learn more about the format in which you should provide your site's event data in the CSV.
If you look at the screenshot above, you can see that our platform could not recognize a field in the CSV. This example demonstrates that you may record data on your site that's new to us and we have not encountered in the past. You can create a new data type, and specify its format so that our platform can record it the way you want it to.
After you have mapped event attributes from your site to the options on our site, click Import Events. Our platform imports these events and sends an email to the addresses that you provide here. You can then use these events in your campaigns.