The audience syndication feature of Blueshift provides functionality to build custom audiences using your first party data gathered across your websites, apps, and other direct customer touch-points. Different paid media platforms call the custom audience that you build with Blueshift as tailored audience, matched audience, or third party audience.
You can use the custom audience to improve ROAS (return on ad spend) on the paid media platforms. You can either create audiences to target specific ads based on behavioral data and demographic data that you collect or use these audiences to remove them from targeting to not spend on users who have either already done a certain action or are low intent users.
You can use our audience syndication feature to create custom audiences and keep those audiences updated on a regular basis automatically without any manual CSV file download and upload across platforms. This feature connects with almost all paid media platforms that you spend on.
Before setting up the syndication itself, you must set up the integration with the advertising platform that you want to use.
For more information on the audience/advertising media platforms that we support, see the App Hub.
Complete the following steps to create the syndication:
On the left navigation menu, click Syndications to go to the Syndications index page.
On the top right corner, click Syndication + and then click Audience.


Specify a name for the syndication on the page that appears. This is used purely for identification purposes and must be unique for this syndication.



The Tags functionality in Blueshift is used for organization and grouping purposes. For example, you may want to organize syndications that use a specific segment. To group such syndications together, you can choose a tag folder and apply tags to this syndication.

On the page where you specify the Syndication's settings, the configuration is organized in three steps:

Choose your segment
Destination
Schedule



Step 1: Choose your segment
In this step, choose the segment that you want to syndicate to the platform of your choice.

If control groups are enabled for your account, you can choose whether this syndication should honor it or not. For more information, see Control groups.

After you select the segment and control group setting, click Continue.

Step 2: Destination

Choose the destination of the audience that you want to syndicate.


Facebook, Google Ads, or Criteo

If you select Facebook, Google Ads, or Criteo as the destination, you can either choose an existing audience or create a new one. Here, select an integration. Integrations are listed using the alias name that you specify when you set it up.

Option to use an existing audience



Option to create a new audience

Specify a name in the Custom Audience Name field. First, our platform creates an audience in LinkedIn with the name that you specify here. Then, our platform exports the segment into this LinkedIn audience. We recommend that the name that you specify here is unique.



Other paid media platforms powered by LiveRamp partnership

If you choose a platform that is integrated with our platform through our partnership with LiveRamp, you can only create a new audience.

When you select one of these platforms, a new field titled Filename (Audience name) appears. Specify a name here. First, our platform creates an audience in the platform with the name that you specify here. Then, our platform exports the segment into this audience. Ensure that this is name is unique.

If you select the AdRoll platform, you must also provide the Segment ID of the segment on the AdRoll platform with which the segment on the Blueshift platform is to be synced.

After you specify all the settings, click Continue.

Step 3: Schedule



The Start Time indicates when this syndication will launch.

The Execution schedule is how often this syndication runs. For LiveRamp based syndications, it runs every 7 days after the start time that you choose. For other syndications, you can choose from one time, daily, weekly, custom, or continuously.

The End Time indicates when this syndication stops syndicating segments in Blueshift to audiences in the platform that you select.

After specifying the settings, click Done.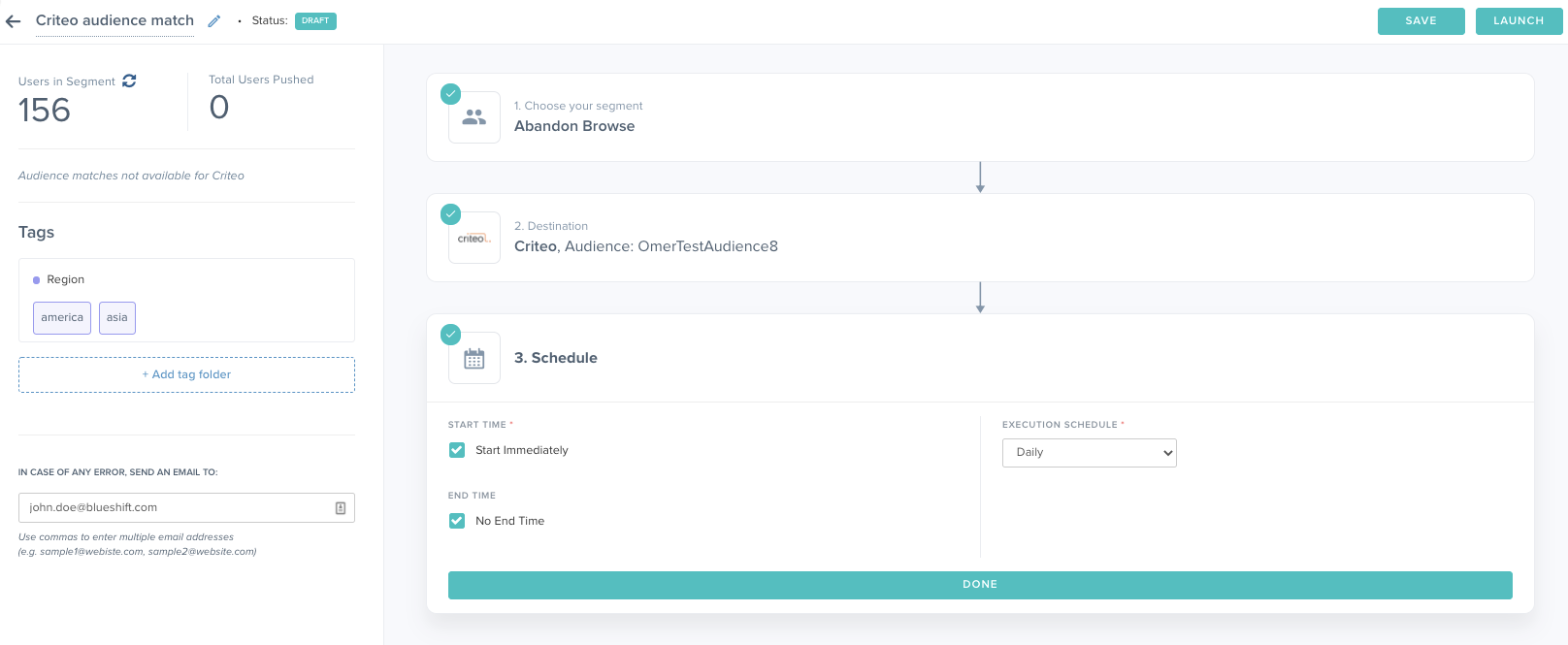 After all of the appropriate settings have been filled out, save this syndication and hit launch. This will activate this syndication and users will soon be computed and sent out to all the destinations that you've entered.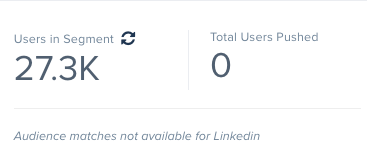 The detail view shows:
The number of users in the segment
The total number of users that were pushed to the selected platform (the total number includes all the users added to the paid media platform including the users that get removed from destination platform at some point)
The total number of audience matches.
In addition:
Note that the size of audiences on paid media platforms are reported based on their policy, and usually not in real time.
Stats are updated in real time and will reflect the active state, refreshing the page will refresh the stats.
Stats are stored per day, as per hour stats would not be accurate due to Facebook, Google, Criteo, or LiveRamp's delay in adding users to audiences.
Our platform cannot delete a customer from an audience in a platform integrated through LiveRamp partnership. For example, if due to some reason one of your customers falls out of the segment that is syndicated to LinkedIn (which integrated via LiveRamp). In such a case, we create another audience in LinkedIn using the updated segment. The audience name for removed users looks like <audience name>_suppression. You have to tweak your LinkedIn campaign in a manner that uses both the audiences and excludes the customers who are no longer a member of the segment. For example, you can set a condition in your LinkedIn campaign that uses both the audiences and ensures that it excludes the customers who are members of the suppression audience.
Blueshift provides stats on a syndication that it ran. For more information, see Syndication stats.