The Audience Sync syndication is used to keep a segment in sync with a 3rd party platform, including advertising, analytics and engagement platforms. For example, marketers can use this feature to keep any segment in sync with advertising partners.


Before setting up the syndication itself, to use the Audience Sync syndication effectively, an advertising platform integration must first be set up. This settings menu can be accessed through the top right settings menu, located here: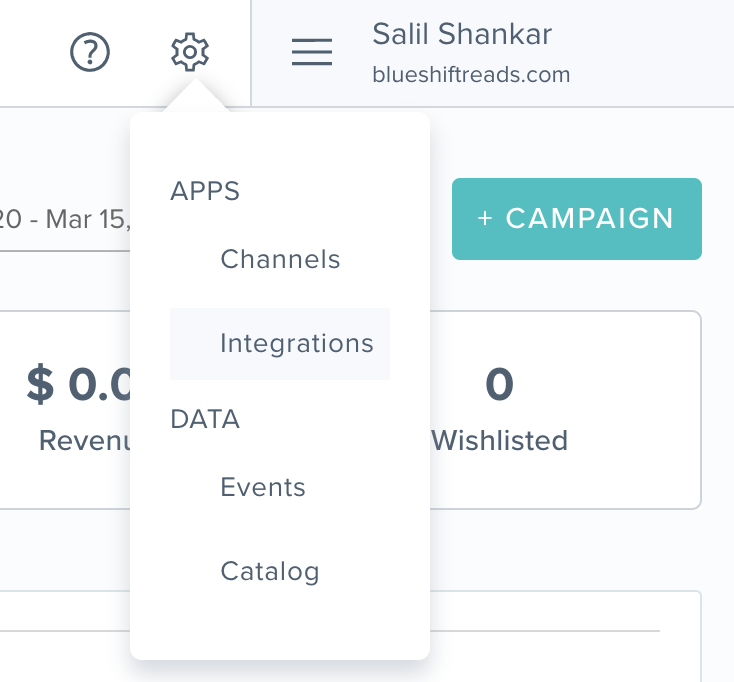 Click Integrations to access your integration settings.
You will see all currently available audience sync integrations.
Select an integration and click + ADD ADDITIONAL CREDENTIALS to see options that you can use to add an audience on the Blueshift platform.
For more information on the audience/advertising media platforms that we support, see this page.
Perform the following steps to create the syndication:
On the left navigation menu, click Syndications to go to the Syndications index page.
On the top right corner, click Syndication + and then click Audience (if you see a dropdown).


Specify a name for the syndication and click Create Audience Syndication.

On the page where you specify the Syndication's settings and create it, the configuration is organized in four steps:

Configuration
Destinations
Schedule
Save + Launch




Step 1: Configuration

Provide the following details in this step:

| | |
| --- | --- |
| Field | Description |
| Name | The Name field is the name of this particular syndication. This is used purely for identification purposes and must be unique for this syndication. |
| Tags | The Tags functionality in Blueshift is used for organization and grouping purposes. For example, you may want to organize syndications that use a specific segment. To group such syndications together, you can choose a tag folder and apply tags to this syndication. For more information on tags, see Tagging. |
| Segment | The Segment is practically the audience that you want to export out of Blueshift. Choose a segment that you want to syndicate from Blueshift to the ad platform. |


Step 2: Destinations

Choose the destination of the audience.



Facebook, Google Ads, or Criteo

If you select Facebook, Google Ads, or Criteo as the destination, you can either choose an existing audience or create a new one. Here select an integration. Integrations are listed using the alias name that you specify when you set it up.

Option to use an existing audience



Option to create a new audience

Specify a name in the Custom Audience Name field. First, our platform creates an audience in LinkedIn with the name that you specify here. Then, our platform exports the segment into this LinkedIn audience. We recommend that the name that you specify here is unique.



LiveRamp based platforms

If you choose LiveRamp based platforms, you can only create a new audience.

When you select one of the LiveRamp based platforms, a new field titled

Filename (Audience name) appears. Specify a name here. First, our platform creates an audience in the platform with the name that you specify here. Then, our platform exports the segment into this audience. Ensure that this is name is unique.

Step 3: Schedule



The Start Time indicates when this syndication will launch.

The Execution schedule is how often this syndication runs. For LiveRamp based syndications, it runs every 7 days after the start time that you choose. For other syndications, you can choose from one time, daily, weekly, custom, or continuously.

The End Time indicates when this syndication stops syndicating segments in Blueshift to audiences in the platform that you select.

Step 4: Save + Launch

Click Save and Launch the syndication. If everything works as expected, our platforms starts syndicating the segment with the platform that you select in step 2. You can then use the audience in the platform's campaigns.
After all of the appropriate settings have been filled out, save this syndication and hit launch. This will activate this syndication and users will soon be computed and sent out to all the destinations that you've entered.
Click on the previously created syndication in the index page to view appropriate statistics.

The detail view shows the number of users in the segment, the net users that were pushed to Facebook and the total number of Facebook Custom Audience matches.
Note that the size of audiences in either Facebook, Google, or Criteo are reported based on their policy, and usually not in real time.
Stats are updated in real time and will reflect the active state, refreshing the page will refresh the stats.
Stats are stored per day, as per hour stats would not be accurate due to Facebook, Google, Criteo, or LiveRamp's delay in adding users to audiences.
Our platform cannot delete a customer in LiveRamp based audience. For example, if due to some reason one of your customers falls out of the segment that is syndicated to LinkedIn (which is a LiveRamp based syndication). In such a case, we create another audience in LinkedIn using the updated segment. The audience name for removed users looks like <audience name>_suppression. You have to tweak your LinkedIn campaign in a manner that uses both the audiences and excludes the customers who are no longer a member of the segment. For example, you can set a condition in your LinkedIn campaign that uses both the audiences and ensures that it excludes the customers who are members of the suppression audience.