The Audience Sync syndication is used to keep a segment in sync with a 3rd party platform, including advertising, analytics and engagement platforms. For example, marketers can use this feature to keep any segment in sync with advertising partners like Facebook Custom Audiences and Google Adwords Customer Match.
Before setting up the syndication itself, to use the Audience Sync syndication effectively, an advertising platform integration must first be set up. This settings menu can be accessed through the top right settings menu, located here: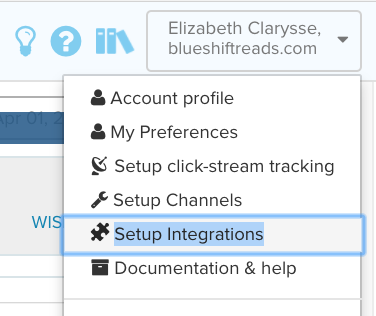 Click Setup Integrations to access your integration settings.
Under Advertising Platforms, you will see all currently available Audience Sync integrations. Currently, we support Facebook Custom Audiences and Google Adwords Customer Match.
Setting up your Facebook integration is done through a few steps:

Log into the Facebook account that manages your Facebook advertisements
Enter the Facebook Advertising ID that corresponds to the account you wish to manage
Click Authorize Facebook and authorize the Blueshift Custom Audience Tool with the specified permissions. If successful, the button will read "Already Authorized Facebook."
Click Save
Similarly, setting up your Google Adwords integration follows these steps:
Log into the Google Adwords account that manages Customer Matches
Find and enter the Client Customer ID used to manage your user lists
Click Authorize Google, and a pop-up window will show up ask for permissions, click on Allow and Google will show up a verification code
Copy and paste that verification code to Blueshift Integration dialog and click to verify.
Once it shows Authorized, remember to Save
Go to the Syndication index page, accessed through the left side navigation bar, located under Campaigns and above Segmentation.

The green Syndication + button opens the Syndication creation wizard.
Click the top right Syndication + button to open the Syndication Creation Wizard.
Select the Audience Syndication, give your syndication a unique name and click create.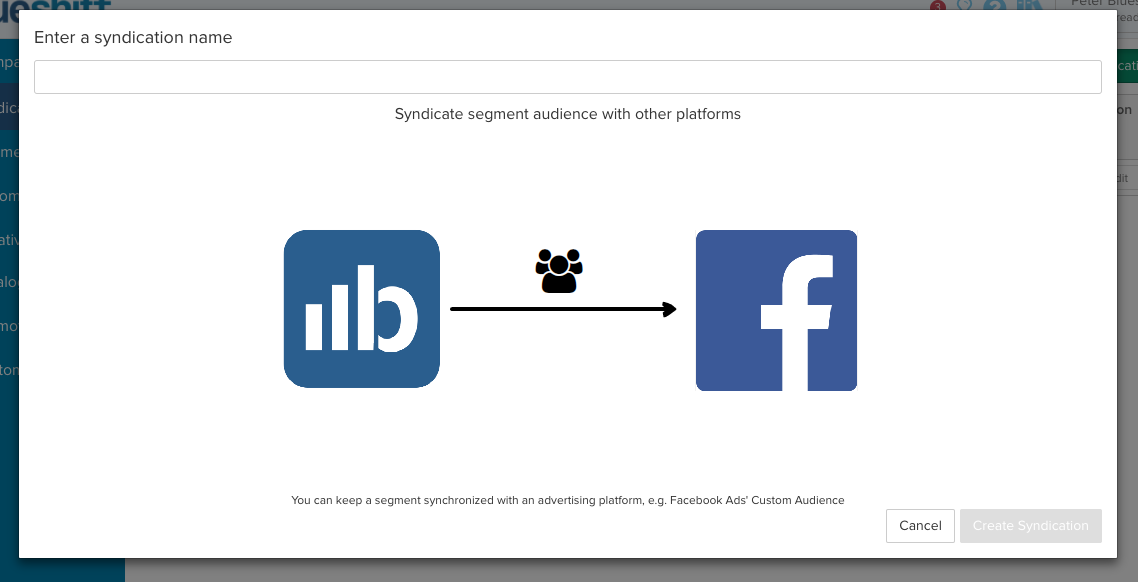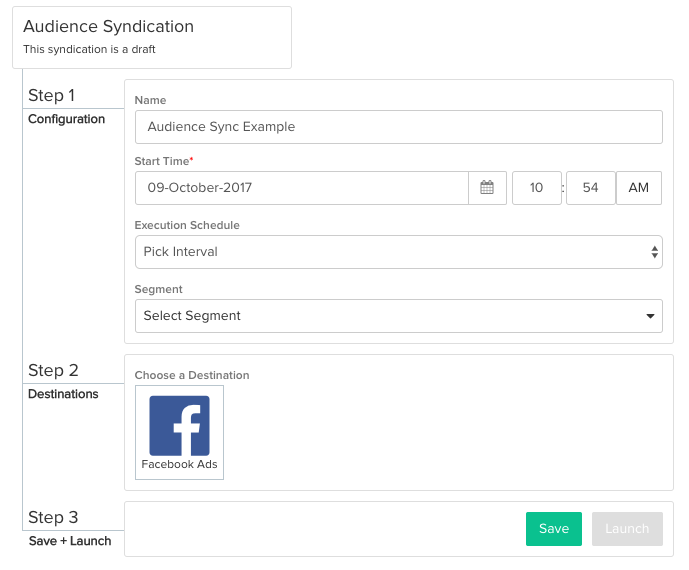 The Audience Syndication configuration is organized in three steps: overall configuration, destination configurations and saving / launching.
The Name field is the name of this particular syndication. This is used purely for organization purposes and must be unique for this syndication.
Start Time indicates when this syndication will launch.
Execution schedule is how often this syndication will run and is further elaborated in the following:
| | |
| --- | --- |
| Title | Purpose |
| One-time | This setting will export the segment on a one-time basis. |
| Daily | This setting will export the segment daily, at the Start Time specified above. |
| Weekly | This setting will export the segment weekly, on the Start Time and 7 days afterwards and so forth. |
| Continuous | This setting will keep the segment in sync with the destination in as real-time as possible. Blueshift will re-evaluate the segment every 5 minutes and update the destination appropriately. |
Click on a particular Destination type to add that destination to this syndication. For example, to add a Facebook Custom Audience to sync to, click on Facebook Ads .
Facebook Custom Audience
Sync with Existing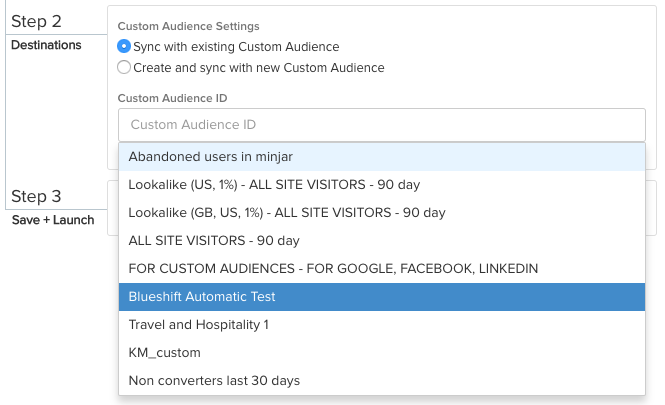 If the Facebook integration is set up correctly, you should see all of your Custom Audiences in the drop down menu. Select the Custom Audience that you desire and double check that the Custom Audience ID matches the appropriate Custom Audience. Please note that Facebook does not enforce uniqueness for Custom Audience names, so there may be some overlapping Custom Audience names.
Create new Custom Audience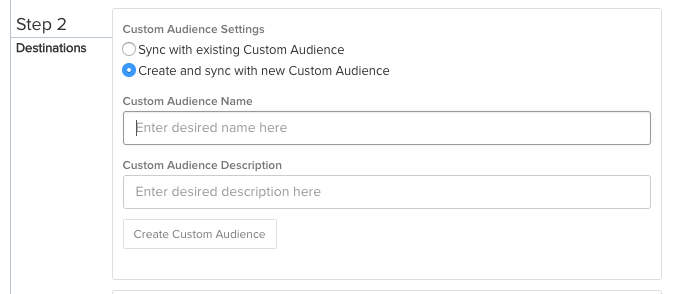 We also offer the ability to create a Custom Audience from our UI. Simply input all of the necessary fields, hit create and save after verifying the Custom Audience ID.

Similarly, selecting Google Adwards as syndication destination allows to sync with existing Google user lists or create a new one through exactly the same steps.
After all of the appropriate settings have been filled out, save this syndication and hit launch. This will activate this syndication and users will soon be computed and sent out to all the destinations that you've entered.
For Facebook Custom Audiences, we use Multikey Matching. Instead of just sending Facebook a user's email, telephone number or mobile id, Blueshift uses all available demographical information to Facebook. This allows Facebook to find users who signed up with a different email and/or phone number and significantly increases the overall match rate.
We send the following information, if available, to Facebook:
Email address
Phone number
Gender
Birth Year
Birth Month
Birthday
Last name
First name
First Initial
State
City
Zip code / Postal code
Country code
Mobile advertiser id
For Google, we currently only send over emails, more attributes such as name, country code, and phone number will be supported soon.
Click on the previously created syndication in the index page to view appropriate statistics.

The detail view shows the number of users in the segment, the net users that were pushed to Facebook and the total number of Facebook Custom Audience matches.
Note that the size of audiences in either Facebook or Google are reported based on their policy, and usually not in real time.

Stats are updated in real time and will reflect the active state, refreshing the page will refresh the stats.

Stats are stored per day, as per hour stats would not be accurate due to Facebook or Google's delay in adding users to audiences.