Retaining or winning-back a customer is more cost-effective than acquiring a new customer as that customer will already have a relationship and a trust level with your brand, company or product.
In this segment triggered campaign, we are targeting users who purchased previously, but have not visited the site recently.
Note that your definition may vary depending on your business and purchase cycle.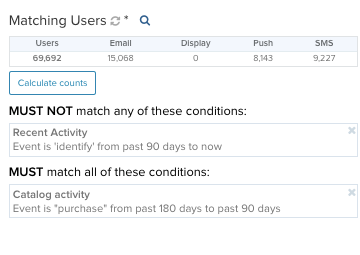 You could also send specific content based on gender or other user attributes. For example, Top Selling Items in Male/Female, Latest Items in User's Preferred Categories with promo code, etc.
You can also choose to follow up with these customers after a few days if they haven't responded to your campaign.