Blueshift's dynamic recommendations & segmentation technology can be used in websites, mobile web and in-app to drive higher engagement for owned & operated sites. Powered by Blueshift's "Live content" offering, marketers can insert dynamically recommended content and complete the user experience from offsite messaging (email, push messages, SMS) to on-site messaging (website, mobile web & mobile apps). Live content allows targeting based on real-time user behavior by leveraging user attributes, click-stream and campaign engagement data, along with machine-learning driven content recommendations built with Recommendation Studio.
Targeted content may be inserted in websites, mobile web and in-app by setting up 'slots'. A slot identifies a block on the webpage/screen where dynamic content from Blueshift's live campaigns is included. Multiple slots may be included on the same webpage or mobile screen. A slot has a "name" to uniquely identify the slot, so Blueshift can merchandise the right content for the slot.
For instance, an item page may include two slots: a vertical right banner for similar items, and a bottom banner showing trending content from the same category.
Create a new Slot by clicking on the action menu on the top right of the page: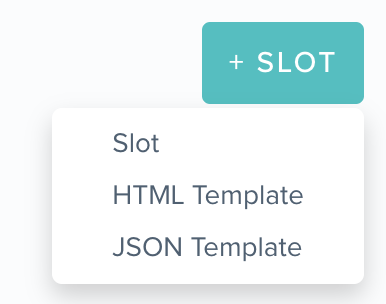 Creating a new slot, requires:
Slot name: The slot name (example: item_detail_page_right_sidebar) should uniquely identify where the slot will be used. The slot name will be subsequently used in API calls or Javascript tags so that the right dynamic content can be included for each slot.

Slot type: The slot type can be HTML (for HTML/javascript tag based integration in websites/mobile web) or JSON (for API integration such as for mobile apps). For HTML slots, the slot dimension needs to be added which ensures that the content template fits the slot dimensions.
The height and width are optional for HTML content slots, but it is recommended that you add those. Doing so, will ensure that HTML templates that do not meet the slot dimensions are excluded from campaign setup.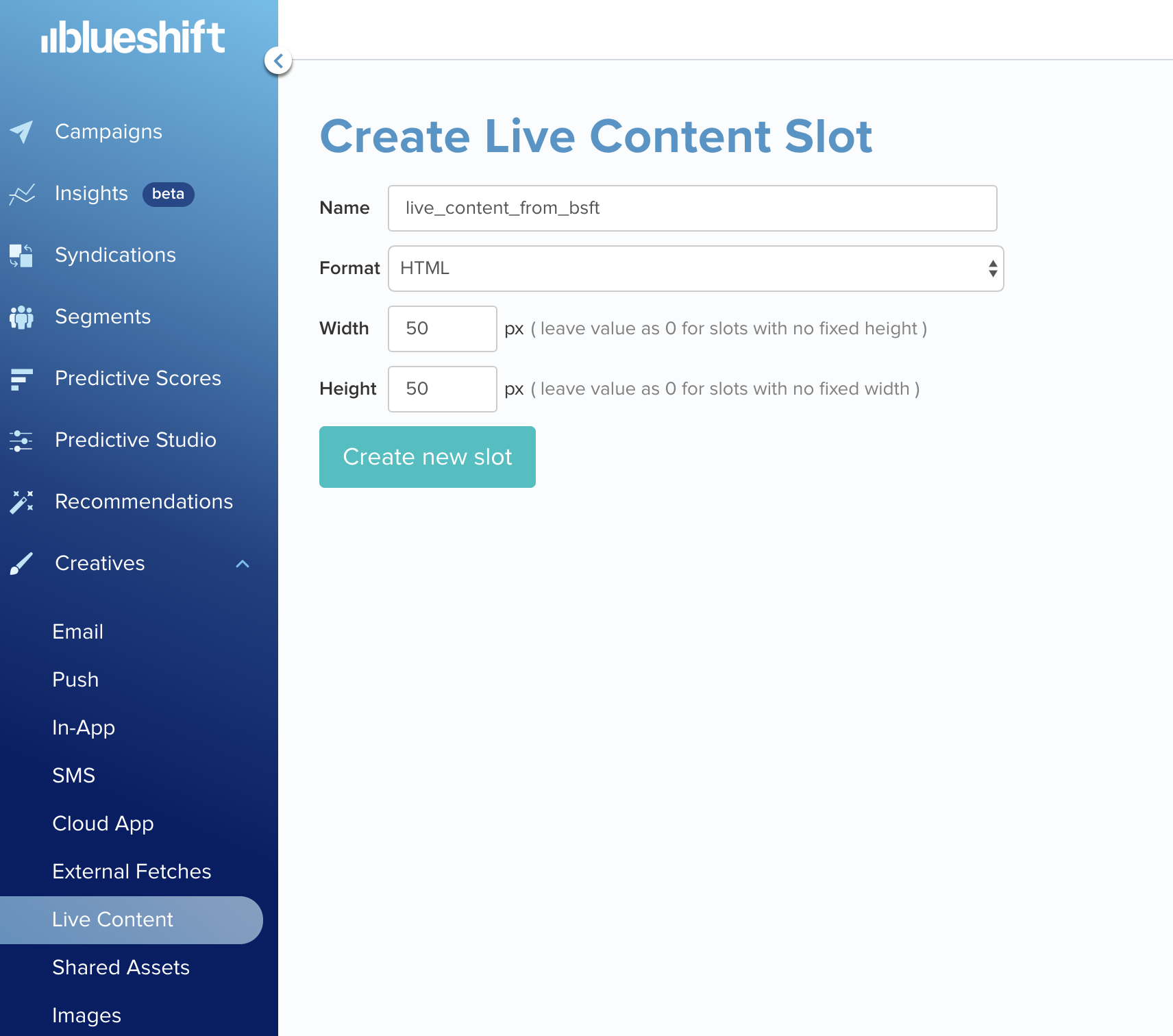 To create a template, see Live Content Templates.
Select "Live" as the channel type during campaign creation. After entering the campaign name, enter other campaign parameters:
Segment: Select target segment or select 'All Users' to target every user. 'All Users' is a special segment which include anyone (even new users) who come to your site.
Start date: Date campaign should begin
End date: Date campaign should end
Slot: The target slot for the campaign. The API/Javascript call will refer to this slot string, example: item_detail_page_right_sidebar.
Template: The template to display for the campaign.
Day parting: You may set the campaign to run only at certain times of the day.

Once the campaign is setup, click on "Save" and then "Launch" the campaign: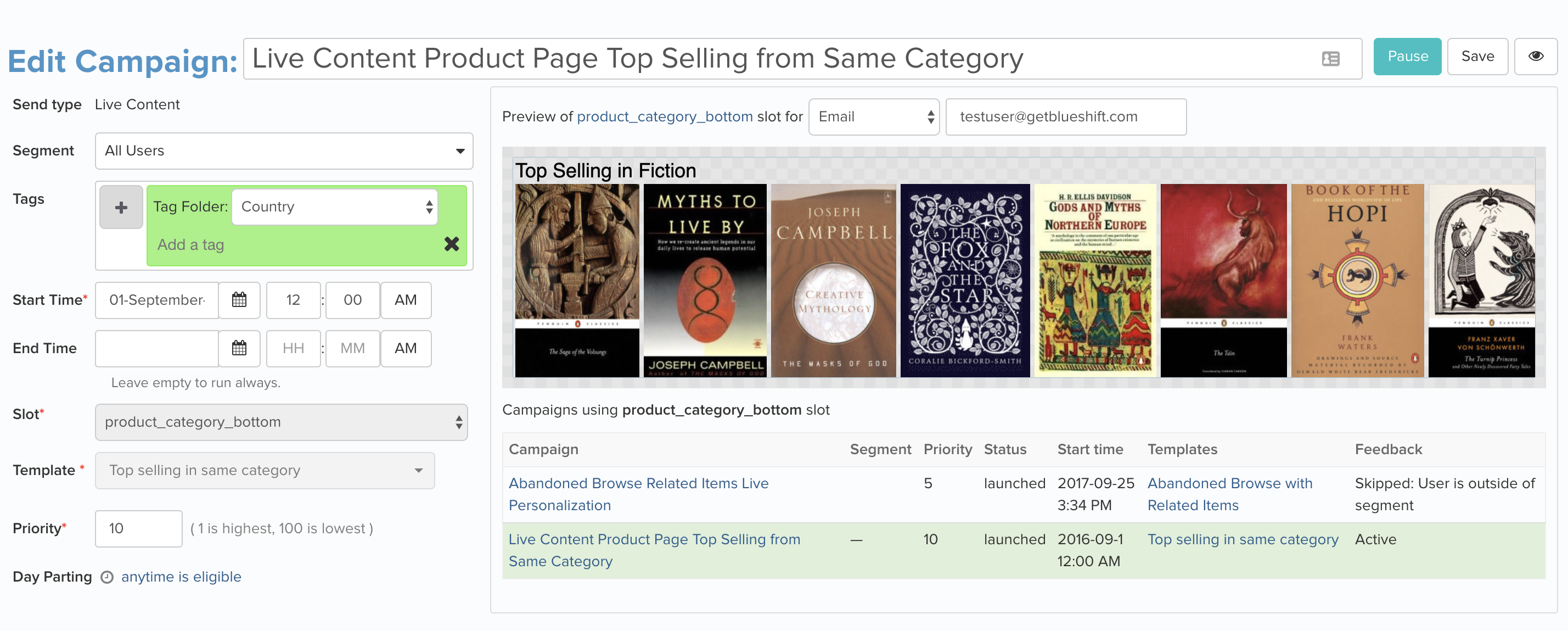 A slot may have multiple campaigns executing and competing for the user. The campaign picked for the user depends on the segment the user is a part of and the corresponding priorities for each campaign. If a user is a member of multiple segments, the campaigns are sorted by priority, and the first one in ascending order is picked for the user. It is recommended that you always have a campaign targeting the default "Everyone" segment, that way, you always have some content to show to all users.
Best practice:
Multiple campaigns against a slot: It is recommended that you have multiple campaigns against a slot with fine-grained targeting roles for segment and content recommendations. That way, you can measure the efficacy and performance of each of your campaigns targeting the same slot. Eg: You may choose to have two campaigns on the homepage, campaign1 targeting logged in users and campaign2 targeting anonymous users. By having two separate campaigns with different segments and content recommendations, you can measure the performance of content recommendations for logged in users versus anonymous users.

Catch all campaign: It is recommended that you have a catch-all campaign targeting a slot with the segment as "All Users". The catch all campaign ensures that every user (even first time anonymous users) will see some content targeting them. In addition, you can measure the performance of those campaigns.
Segment Membership Warm up Period: It can take up to 15 minutes after the launch of a live content campaign before users start being considered eligible based on matching a segment.
"Live content" supports several use-cases for "segment of one" user targeting on websites and mobile apps, including:
Static & segmented banners: Static banners/creatives targeted to users via segmentation for promotions/VIPs/loyalty
Recommended content: Dynamic content recommendations showing users recent browsed/abandoned & similar items as reminder or any other content targeting created with Recommendation studio
In-app push: Segmented+personalized message push available inside app each time the user starts the app or responds to a Push message
Related products: For product pages, "people who saw this also saw that"
Cross-sells: For post purchase confirmation page, "people who bought this also bought that"
Reminders: For user landing pages, "Our best picks for you", "Trending content", "Back in stock" and similar.
Here is an example from: blueshiftreads.com. Sample related content widget on blueshiftreads.com from the same author as the book the user is currently browsing.