Dayparting is an advanced Blueshift feature that allows you to choose which times of the day to send your triggered campaigns (to avoid undesirable times). This can be set for the user or account timezone.
In order to set your desired send times, go to Advanced Settings under each trigger and select the clock icon to open up the send timing modal. Here, you can define easily define when a campaign should be run.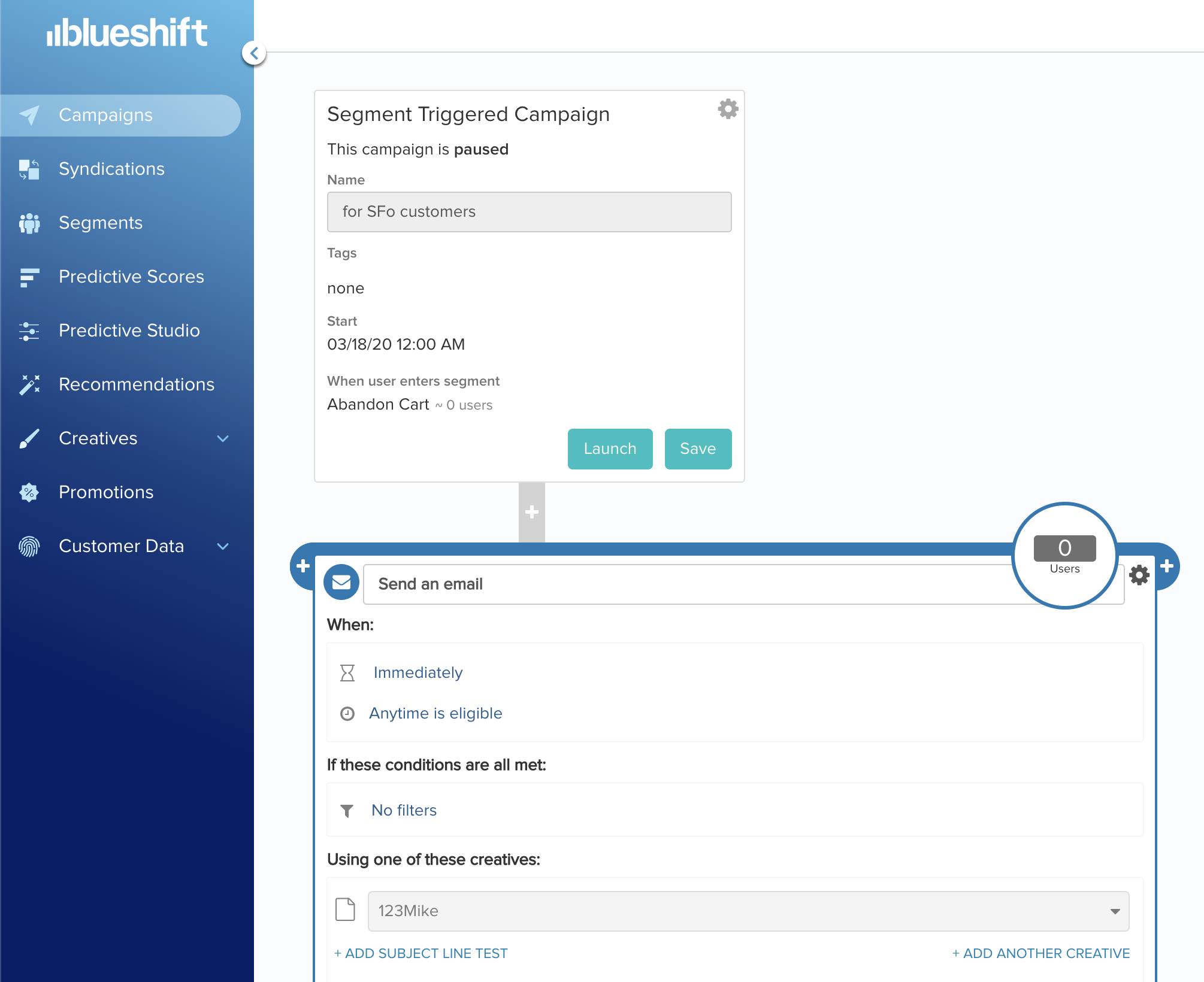 Click "Anytime is eligible" to open up the Send Timing window.
To select the hours when the messages will be delivered, simply click and drag to create your preferred dayparting windows. The check boxes next to the day of the week can be used to mark an entire day as eligible. Likewise, the times at the top of the table can be clicked to mark a time as eligible for all days.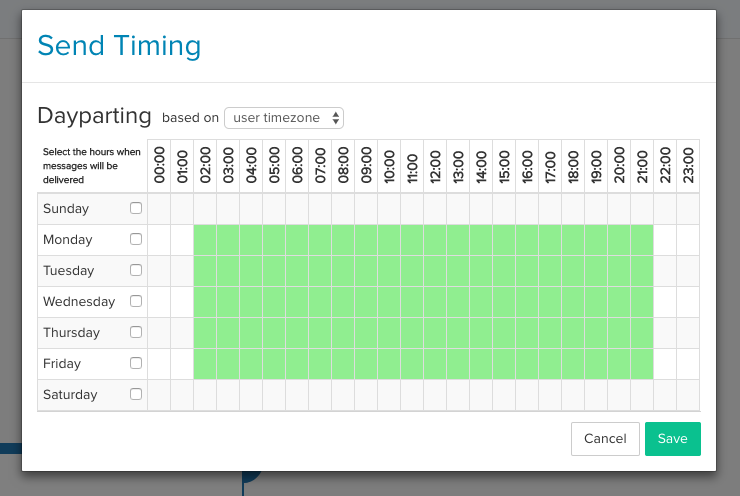 In this example, all messages will be sent between the hours from 2AM to 10PM for Monday through Friday in the user's timezone.
Dayparting Time
The dayparting window indicates when the campaign is active. We queue up sends for Event Triggered but not for Segment triggered campaigns.
Event triggered campaigns have additional options to dayparting.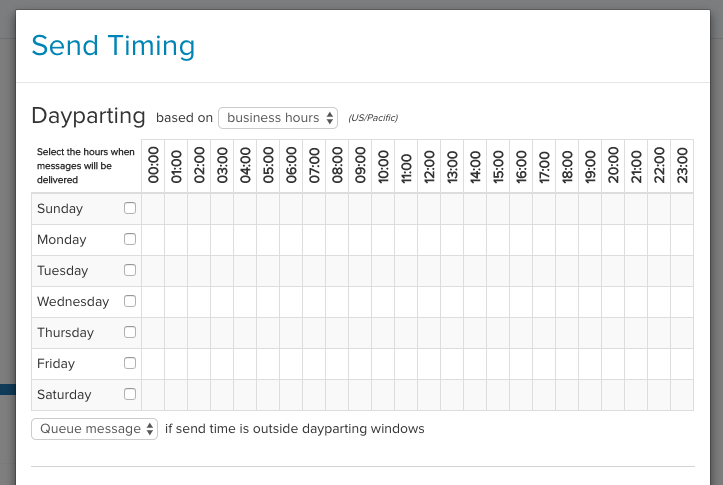 Notice the ability to choose what occurs if the send time falls outside dayparting windows.
By default, events/eligible users that fall outside of the dayparting window and will send on the next available window.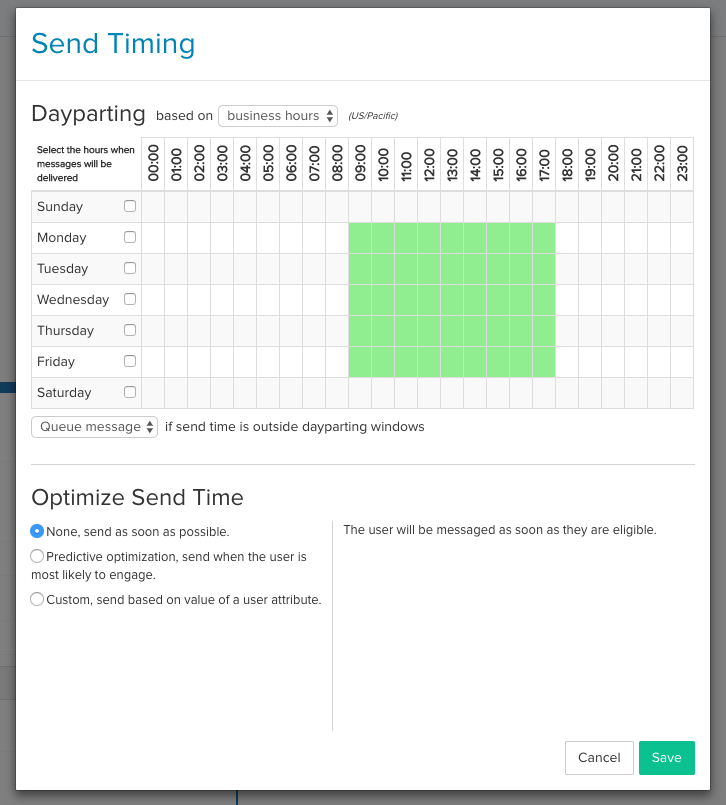 For example, if the send time fell on a Saturday in the above dayparting scheme, the message would be queued to send 9AM Monday morning. This can be used as an effective tool to ensure that your messages are sent at specific times of the week.
Alternatively, there is an option to skip the user if they fall outside dayparting times.

If "Skip message" is selected, if the send time does not fall within your dayparting windows, the message will be discarded and not sent. This can be used to ensure that time-sensitive triggered emails are not sent outside of specific hours.
Examples: Here are some scenarios, if you have set dayparting between 10a-12p for all days and no delays on campaign trigger
Event comes in at 9.45a on Monday - will get queued up till next eligible window i.e. Monday at 10a
Event comes in at 11a on Tue - gets sent immediately since it is within 10a-12p
Event comes in at 4p on Wed - gets queued up to be sent at 10a on Thu but campaign messaging limit for Thu will be applied
Unlike event triggered, we do not queue up messaging and the combination of day parting and segment definition controls when a user get a message. The user has to be a part of the segment during the dayparting window in order to get messaged.
Example: Here are some scenarios, if you have set day parting between 10a-12p for all days and no delays on campaign trigger.
User entered the segment at 9.45a on Monday - campaign won't execute till 10a. But at 10a, it will look for users who have joined between 9a-10a and therefore this user will get an email
User entered the segment at 9.45a on Monday - campaign won't execute till 10a. But at 10a, it will look for users who have joined between 9a-10a and therefore this user will get an email
User entered the segment at 10.45a on Monday - Within dayparting window and user gets emailed