Blueshift provides a complete view of your users by aggregating data from the various touch points - activity on web/mobile, user data, campaign activity, etc.
To see an example in your account, navigate to the Customer Attributes tab, search for a user and click on view.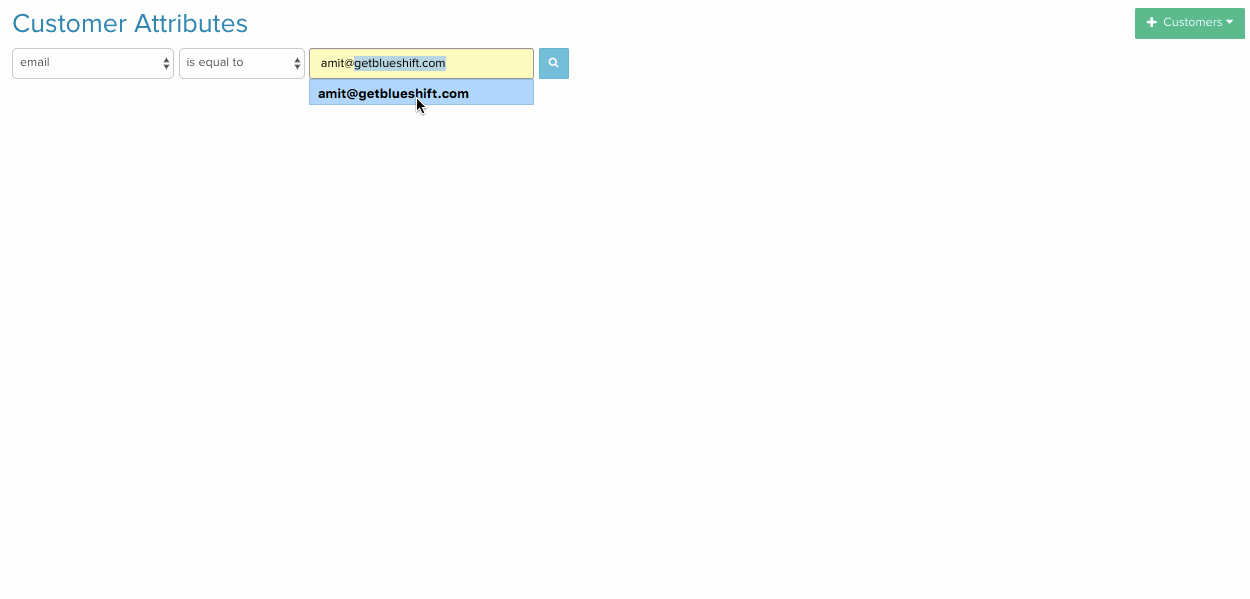 We organize a user's information into 4 buckets.
1. Overview: Comprises of standard and custom user identifiers, key lifetime stats, predictive stats, mobile device IDs (and subscription to push notifications on each device), and visual representation of recent activity with your content/products.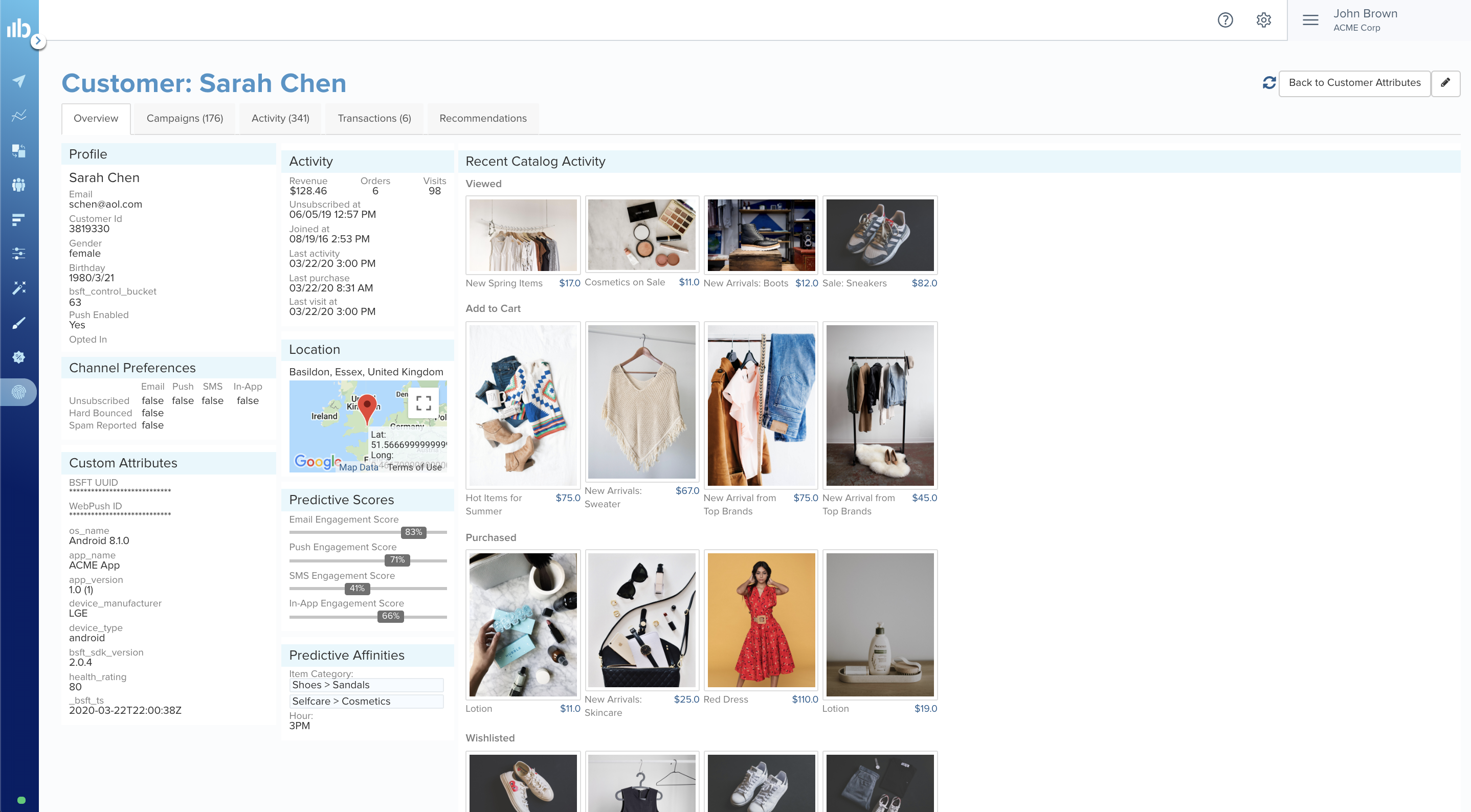 2. Campaigns: Messaging activity for all campaigns sent to the user

3. Activity: User generated actions/events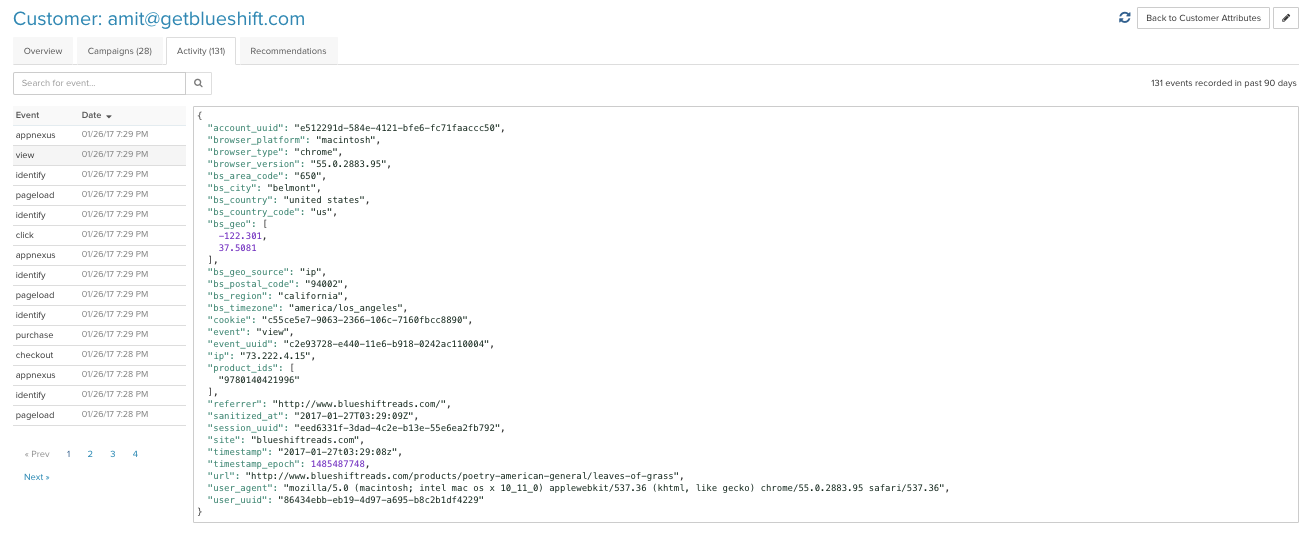 4. Recommendations: Preview recommended content/products based on pre-defined algorithm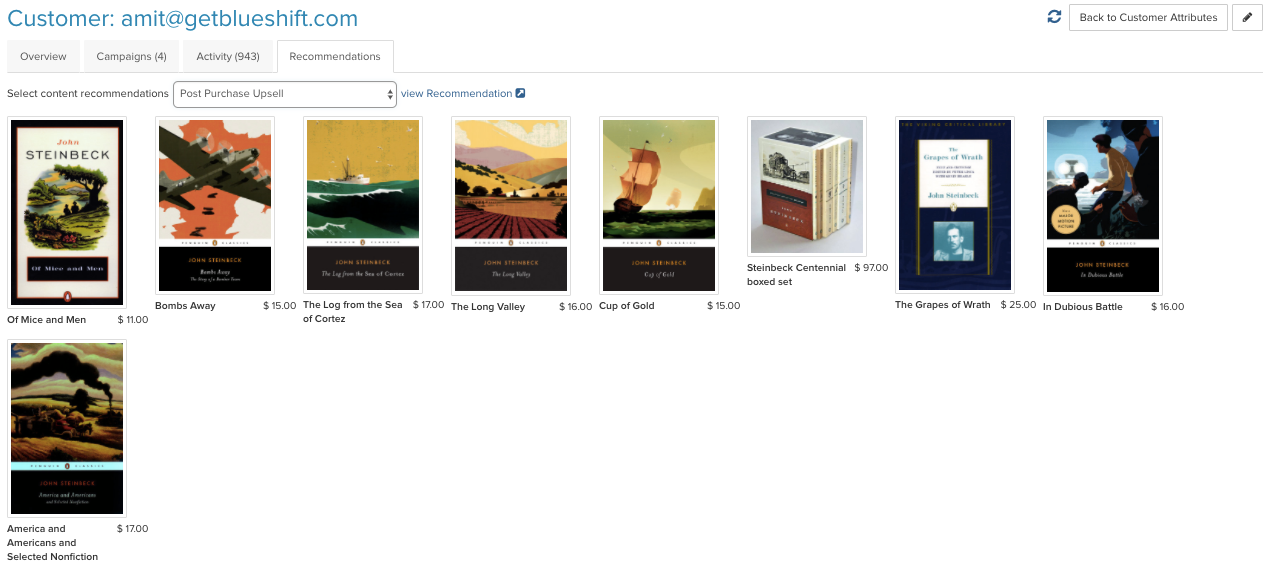 Blueshift builds a 360-degree user profile by tracking both anonymous and logged in behavior across devices, as well as sessions and merging them using explicit first-party data.
In order to track anonymous website behavior, Blueshift drops a first-party cookie on your domain name, readable only by javascript executing on your site. In order to track anonymous mobile app behavior, Blueshift uses the device_id collected from the mobile SDK.
Blueshift merges anonymous user profiles based on sign-in activity (i.e. using first-party login data). Blueshift uses explicit, deterministic methods to merge user profiles.
Blueshift uses a hierarchy of user identifiers for profile merges. They are, in order:
uuid: Blueshift internal uuid for each user
customer_id: Unique customer id from your system
email: Email address
device_id: One or more device ids associated with the user
cookies: One or more cookies associated with the user
User profiles get merged when either a customer_id or email (or both) are available, with the customer_id getting a higher priority.
Consider the following example:
An anonymous user browses the /about-us page on your website. This information is sent to Blueshift using a pageload pixel. The cookie is sent automatically for every website event.

Example:
pageload(cookie: 5b3f64aa-717c-4e75-ace6-8f610821b098, url: domain.com/about-us)

| | | | | | |
| --- | --- | --- | --- | --- | --- |
| uuid | customer_id | email | cookies | device_ids | behavior |
| 57119c56-585e-447a-9d6a-a40bb2a3b919 | | | [5b3f64aa-717c-4e75-ace6-8f610821b098] | | [viewed /about-us] |

The same user opens the mobile app later in the afternoon and views a few products. This information is sent to Blueshift using the Mobile SDK with a item view event. The device_id is sent automatically for every mobile SDK event.

Example:
view(device_id: e9cc01a4-3473-4df2-a715-30da584ac398, product_id: 123)

| | | | | | |
| --- | --- | --- | --- | --- | --- |
| uuid | customer_id | email | cookies | device_ids | behavior |
| 57119c56-585e-447a-9d6a-a40bb2a3b919 | | | [5b3f64aa-717c-4e75-ace6-8f610821b098] | | [viewed /about-us] |
| 32919c76-545e-227a-9d6a-a40bb4c3b924 | | | | [e9cc01a4-3473-4df2-a715-30da584ac398] | [viewed product 123] |

The user signs in to the mobile app with email user1@domain.com and USERID1. This information is sent to Blueshift using an identify pixel. We find the user with the matching mobile device_id and update that user's customer_id and email address.

Example:
identify(customer_id: USERID1, email: user1@domain.com, device_id: e9cc01a4-3473-4df2-a715-30da584ac398)

| | | | | | |
| --- | --- | --- | --- | --- | --- |
| uuid | customer_id | email | cookies | device_ids | behavior |
| 57119c56-585e-447a-9d6a-a40bb2a3b919 | | | [5b3f64aa-717c-4e75-ace6-8f610821b098] | | [viewed /about-us] |
| 32919c76-545e-227a-9d6a-a40bb4c3b924 | USERID1 | user1@domain.com | | [e9cc01a4-3473-4df2-a715-30da584ac398] | [viewed product 123] |

The user returns next day and signs in to the website with user1@domain.com and USER1. At this point, we detect that there are two profiles for the same USER1 and trigger a merge resulting in a single customer profile with all attributes and behaviors merged.

Example:
identify(customer_id: USERID1, email: user1@domain.com, cookie: 5b3f64aa-717c-4e75-ace6-8f610821b098)

uuid
customer_id
email
cookies
device_ids
behavior
57119c56-585e-447a-9d6a-a40bb2a3b919
USERID1
user1@domain.com
[5b3f64aa-717c-4e75-ace6-8f610821b098]
[e9cc01a4-3473-4df2-a715-30da584ac398]
[viewed /about-us,
viewed product 123]
Consider another example:
An anonymous user browses the /about-us page on your website. This information is sent to Blueshift using a pageload pixel. The cookie is sent automatically for every website event.

Example:
pageload(cookie: 5b3f64aa-717c-4e75-ace6-8f610821b098, url: domain.com/about-us)

| | | | | | |
| --- | --- | --- | --- | --- | --- |
| uuid | customer_id | email | cookies | device_ids | behavior |
| 57119c56-585e-447a-9d6a-a40bb2a3b919 | | | [5b3f64aa-717c-4e75-ace6-8f610821b098] | | [viewed /about-us] |

The next day, the user receives an email from Blueshift containing a link to one of your products. When the user clicks on the link, the product's page on your site opens in the browser. If the user's email address is john.doe@blueshift.com, here's the data that we receive:

| | | | | | |
| --- | --- | --- | --- | --- | --- |
| uuid | customer_id | email | cookies | device_ids | behavior |
| 57119c56-585e-447a-9d6a-a40bb2a3b919 | | john.doe@blueshift.com | [5b3f64aa-717c-4e75-ace6-8f610821b098] | | [viewed /product-123] |

At this point, we detect that there are two profiles for the same user and trigger a merge resulting in a single customer profile with all attributes and behaviors merged. If the customer ID is johndoe, here's how the profile looks now:


| | | | | | |
| --- | --- | --- | --- | --- | --- |
| uuid | customer_id | email | cookies | device_ids | behavior |
| 57119c56-585e-447a-9d6a-a40bb2a3b919 | johndoe | john.doe@blueshift.com | [5b3f64aa-717c-4e75-ace6-8f610821b098] | | [viewed /about-us, viewed /product-123] |